Seabasstiania Warrior Fish!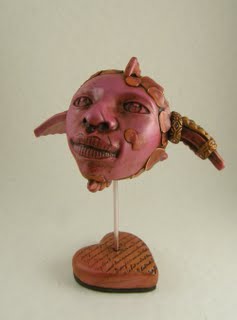 She was a group birthday gift made for Debra Quartermain
www.debraquartermain.com
. She started out as a "fish fish", but had an unfortunate accident in the oven when she jumped off her stick during the final cure. Her left fin broke off completely and when something breaks the best way I know of to fix it is to make it better than before. Warrior fish with adorned battle scars was born. She's made from Kato Polyclay
http://www.katopolyclay.com
and the beautiful Lisa Pavelka stamp for decorating the base
https://www.lisapavelka.com
. Helen, Frank and Mindy-- Seabasstiania leader of the deep sea bass thanks you!
Labels: Debra Quartermain, kato clay, Lisa Pavelka, Michelle Zimmerman, oil paint on polymer clay, polymer clay