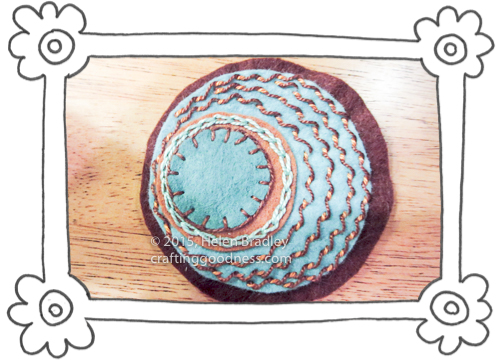 Weave thread to add depth and interest to running stitches
It's been a while since I posted some of my felt circles. I love sewing these because they are small enough that you finish them pretty quickly and you can assemble them into other things like needle books and use them to embellish small pouches.
This one is layers of brown and blue felt and brown and blue threads. I always use wool felt or a blend that has a high proportion of wool and DMC Pearl Cotton thread because of its great handle and its lustre.
Here I stitched a simple blanket stitch on the inside, chain stitch in pale blue thread and then multiple rows of woven running stitch. So here's the low down on weaving stitches – if you do it as I have and thread through each stitch the same direction it doesn't matter whether you have an even or odd number of stitches to thread through. If you do a full loop type of stitch in a full circle then you have to have an even number of stitches which means you need to count – for me that is so NOT happening!
So, to get this awesome result, plan to thread your second thread the same way through each stitch, such as come down from the top and you get a lovely even weave and it works the same on even and odd numbers of stitches.
This is the woven stitch I use – it doesn't need any special stitch count: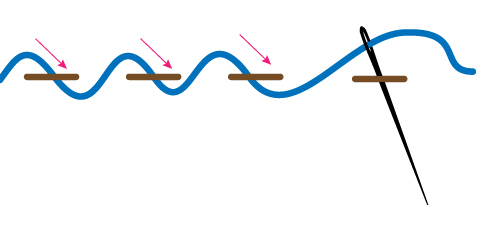 This form of woven running stitch requires an even number of stitches for it to be used around a shape: