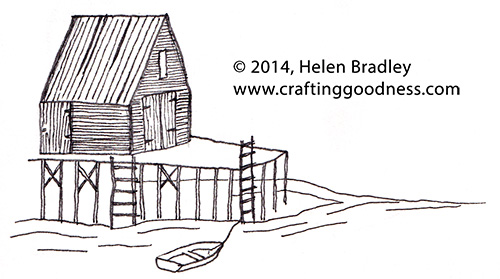 Drawing Log Cabins and wood houses
So, most of the time my drawings are pretty clean and they aren't textured.  However I found a few photos on the web of wooden houses that looked like they were from Norway or one of the Scandinavian countries. I fell in love with the look so I had a shot at sketching them. I left the windows unshaded but everywhere that there are planks of wood, I drew lines.
The plus here is that old wooden houses tend to be a bit warped and uneven so that's the effect I've achieved here – an old rickety style wooden house. Basically the shapes are simple – particularly those below – but the texture really sets them apart from my standard drawing style.
It's good to mix things up a bit. Until you try a style you won't know if you like it and if it's something you want to include in your skill set.
I'm thinking that these might be cute rendered as sketches in Photoshop too – there's a skill involved in creating pattern fills that are organic like this so they look hand drawn. But, for now, here are some wooden houses for you to enjoy and, perhaps draw yourself too.