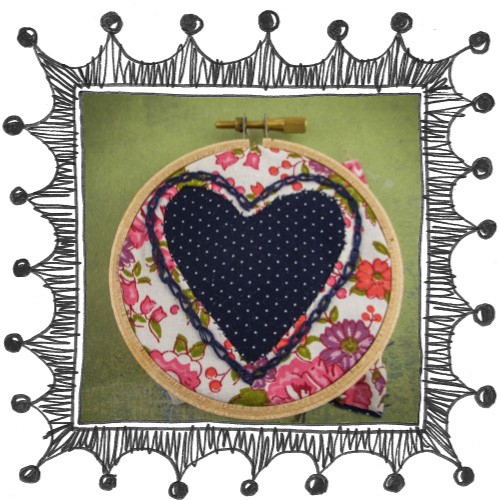 See how to sew a reversed applique embroidered heart
I've been fascinated by the idea of reverse applique for some time now. I just hadn't ever tried it so a while ago I gave it a try.
I got out a small embroidery hoop and some cotton fabric. I chose a colorful floral and a piece of navy spotted fabric. It's a good idea to choose highly contrasting fabrics so you can 'see' the design clearly. This is particularly the case when the project is small like this one is.
I placed the navy fabric face down on the back of the floral fabric. This too is important – both pieces of fabric need to face in the same direction because you're going to cut a heart shape out of the floral fabric so you can "see" the navy fabric through it – so you want to be seeing the right side not the wrong side!
I cut a simple hand drawn heart template. I do this by folding a piece of paper in half and drawing half a heart across the fold. Then cut the shape out and unfold the paper and you have a perfect heart shape.
I pinned the heart to the floral fabric and measured it all against the embroidery hoop that I planned to frame it in. I checked to make sure it would all fit comfortably and that there would be room around the heart for some stitching to show and that it wouldn't all be too close to the edge.
Then I threaded a needle with navy blue thread to match the navy polka dot and I stitched a heart in chain stitch about 1/4 inch outside the edge of the template area. I stitched through both pieces of fabric so they were both sewn together.
Then I took a small pair of very sharp  scissors and using the template and the stitching line as a guide I cut a heart shape out of just the top piece of floral fabric.
You have to be very careful doing this – you need to cut through the floral fabric but not touch the polka dot fabric which is sewn to it! You also need to leave around 1/4 inch of floral fabric showing inside your fancy stitching line. Cut the fabric in a very neat line – it needs to be smooth and neat.
Then I took some regular navy thread (I use Clover silk thread) and sewed really tiny stitches around the cut edge of the floral fabric – I went though both pieces of fabric so the edge is very neat and tidy. You now see the polka dot fabric heart through the floral fabric.
I finished off by stitching the finished piece to another larger piece of fabric because it was all too small to fit easily in the hoop – my fault for using too small a piece of fabric (or too big a hoop!).
Once it was backed with a large enough piece of fabric I put it all in a hoop stretching it nicely.
Then I flipped it all over and finished it off with a piece of matt board cut a bit smaller than the inside of the hoop. I pressed it into place – the excess fabric is enough to keep it all nicely in place.