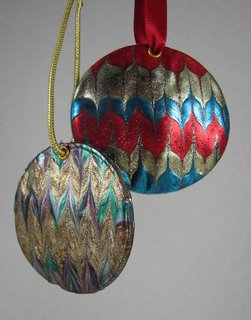 I just couldn't stop making Friendly Plastic ornaments. These are nice and round. No edges for the cat to whack her paw on as she helps Helen decorate the tree. These were made using a marbling comb. There's almost no wrong color combination though I plan on testing out black against black.
Have a safe and peaceful holiday season. Look for more Ornament Thursday posts in the new year. – mz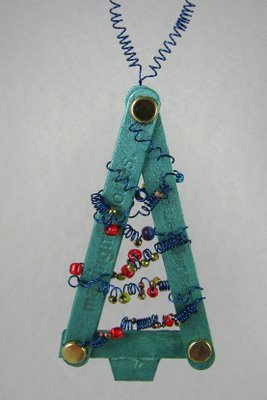 Recycled trees
My final ornament for Ornament Thursday is made from some recycled rub-on sticks of the kind that you get when you purchase alphabet rub-ons. These are from Making Memories so they've got Making Memories actually stamped into the surface of the wood which is why I chose them. The sticks have been painted with turquoise pearl paint and cut to size. I punched holes in them using a Crop-O-Dile and affixed large brads through the pieces to make the tree shapes.
The bottom of the Christmas tree is a cut piece of one of the sticks attached with Glossy Accents. You really have to love Glossy Accents because it really sticks anything to anything. The design is finished off with some artistic wire which has been wrapped around a knitting needle. I threaded small beads onto the wire and then incorporated them into the twisted design as I made the coil. Remove the strip from the knitting needle and all you have to do is wind it around one of the brads and then through and around the Christmas tree shape and finish it off by winding the other end around the topmost brad. The tree hangs from another piece of coiled wire. -hb
To check out what the rest of the ornament Thursday team has been doing this week, visit: http://www.ornamentthursday.blogspot.com/