Learn to cut & sew felt oranges, lemons and limes
Citrus shapes are shapes you see around a lot. I think it is the color – the combination of yummy orange, yellow or green with the white of the fruit's pith is a great contrast. The colors and shapes of a sliced piece of fruit lends itself to be rendered in felt. These projects are quick and simple enough for the beginner to sew which is great because you get a lot of dash for a minimal expenditure of time and learning. They also don't take up a lot of product so you get quite a bit of sewing from just a couple of sheets of felt.
Now I like to use wool felt or at least felt with a high proportion of wool in it when I sew. It's important that you use good quality felt for this project because the pieces are so small and you really need to be able to cut them neatly and to ensure when you sew them that the felt doesn't pull away from the stitches. Cheap felt tends to fall apart when it is cut into small pieces and when you have to sew close to the edges. Good quality felt will stand up to being cut into small pieces and being sewn using small stitches.
Start by making a pattern by drawing a set of concentric circles. I find it easiest to draw the pattern on paper and then use the pattern as a template for cutting the felt. I start by drawing and cutting the outer piece, then I cut it a bit smaller each time until I arrive at the middle piece. I call this a lossy pattern because the pattern gets destroyed in the process but it's easy to do. I've given you a template here that you can use if you need to do so – just copy it at the size you want it to be.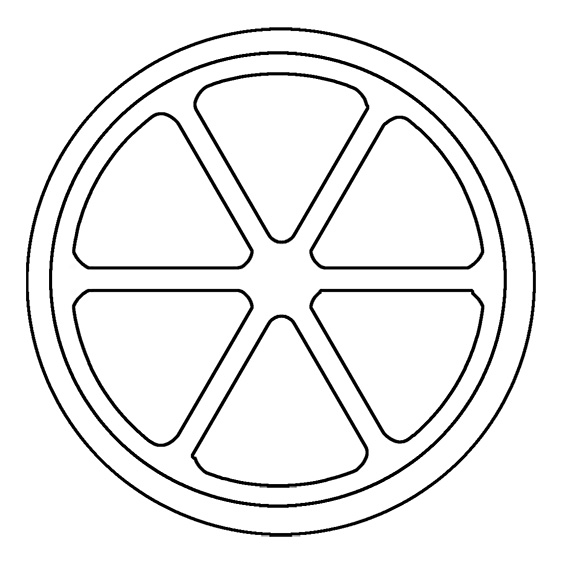 When cutting the smallest pieces – gently round the edges so they aren't pointy – they look better rounded and they are easier to sew this way.
I like to glue the felt pieces together using a fabric glue stick – it helps stabilize everything while I sew and saves having to use a lot of pins. I hate using pins because they always seem to stick into me so I end up feeling like a human pincushion.
Then start sewing – I use white thread on the white pieces and a matching thread on the color pieces – sometimes the color thread I use is a bit lighter or darker – I find that a difference in shade matters less than getting the wrong color. Get the wrong orange or the wrong green and it looks bad. Get a lighter or darker version of the same color and it all looks just fine.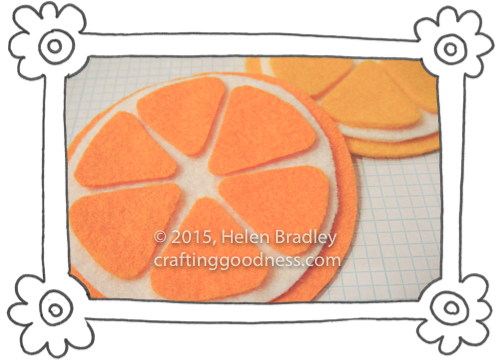 Here I've sewn split stitch around the lemon pieces and around the edges in the orange. In the orange segments I stitched a very simple seed stitch with the stitches all going in pretty much the same direction.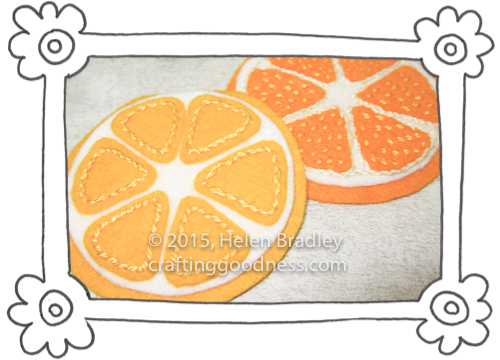 Here the felt pieces have been sewn to a backing fabric and embroidered with blanket stitch, running stitch, seed stitch and split stitch.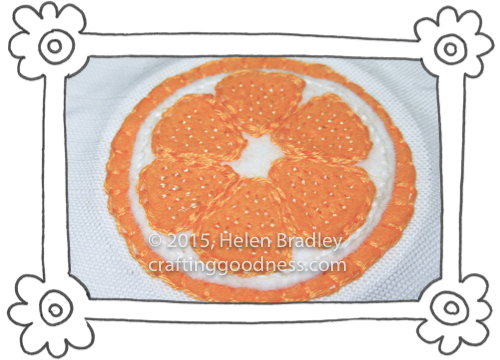 And then the finished piece is assembled into a flexi hoop – I love these cute hoops which I get from an Etsy seller – these hoops are faux wood (although they also come in red, pink and white). You just put the embroidery over the backing ring and then push the flexible outer ring on top. Everything gets held in place nice and securely.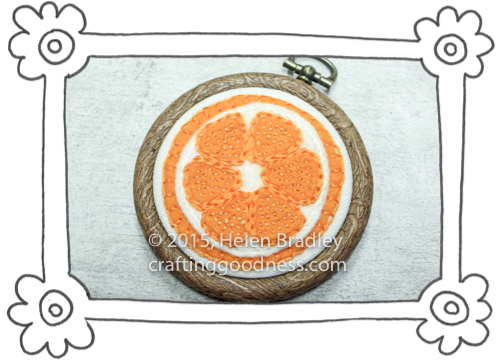 I finished this one off with a piece of matt board cut into a small circle – it was small enough to fit inside the inner part of the hoop but large enough to fit securely so it stays in place. It's a very simple finishing technique – I don't usually do this but it certainly worked well for this piece.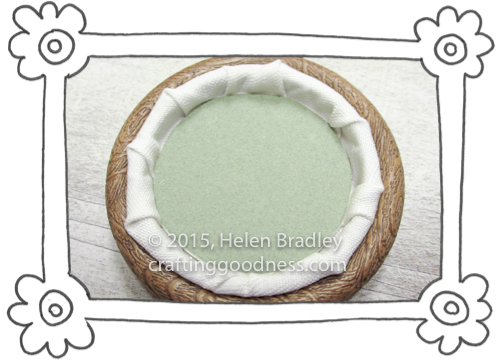 Another option is to cut the inverse out and design the citrus from there. Then fill the inner bits with your embroidery.