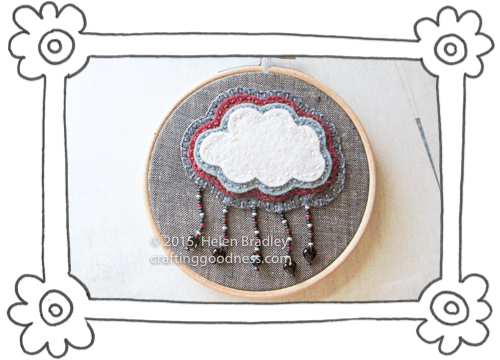 Multi Layer Felt Cloud with Beaded Accents
This is the second cloud embroidery piece I have done lately. In this one, I layered four felt clouds one on top of the other and sewed them with embroidery stitches. The smallest felt cloud is cream, then it was dusty blue, crimson red and grey. I used running stitch on the smallest three clouds and blanket stitch on the outer one. If you're not sure how to do blanket stitch I've included a small "how to" below that will show you how it is done.
I added a series of seed beads in similar colors as the 'rain'. The beads are threaded onto very light wire and, at the end of each is a small teardrop shape bead.
The embroidery is on grey linen and uses DMC Pearl Cotton and I used wool blend felt. I like working in natural materials like linen and wool felt – wool felt in particular because it is stronger than the plastic stuff and it doesn't disintegrate when cut in small pieces. Pearl Cotton has a wonderful luster which adds just the right amount of shine to the embroidery. The piece is small – just 4″ in size.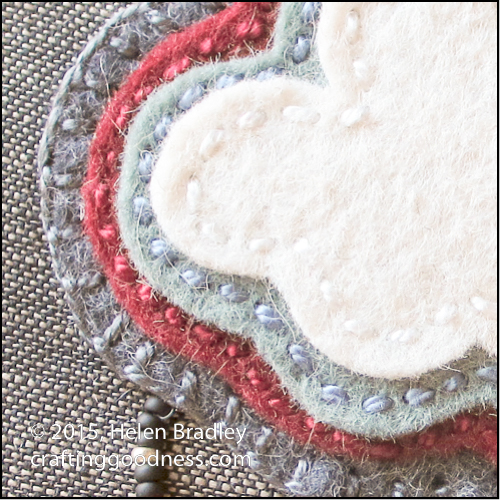 If you want to make this yourself, here is a free pattern. You just need to print it at the desired size and then cut out the felt fabric pieces.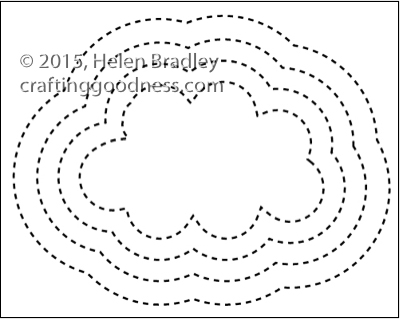 And, here is how to do blanket stitch. It can be done with the thread on the outside or the inside, this is the outside version.