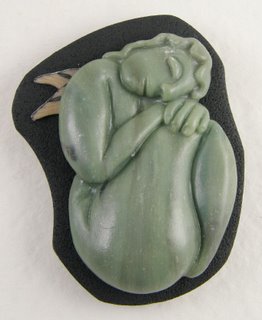 The woman's shape is a prototype of a sculpture I made for Kristine of Krafty Lady Art Moulds. I had some fun with the prototypes and made a couple boxes that I then shipped off to a couple of wonderful people and amazing artists, Debra Quartermain and Marie Browning. They put their one of a kind talents to work and made the boxes their own. This one went to Marie Browning and the box is the happier for it!
Another Dreamer (similar to this but not Celadon!) has been sent as an auction item to the Indiana Polymer Clay Guild's benefit for Ponsawan Silapiruti's daughter Ada. The amazing Christi Friesen is teaching workshops at the benefit. For more details about Ada and the workshops go to http://silastones.blogspot.com/.MZ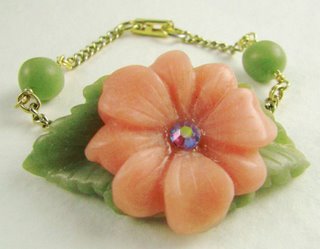 My Celadon project is a bracelet I made for someone who was leaving North Bay and heading to SF to continue her studies. She always wore cool jewellery so I wanted to make her something special to wear. The flower is a mold that Michelle made and the leaves are Michelle's designs for Krafty Lady Art Moulds. The bracelet features a Swarovski crystal bead and additional celadon polymer clay beads.
I love these flowers and leaf combinations and I have one in reverse too – pink leaves and celadon flower – it's funky but I love it too. HB