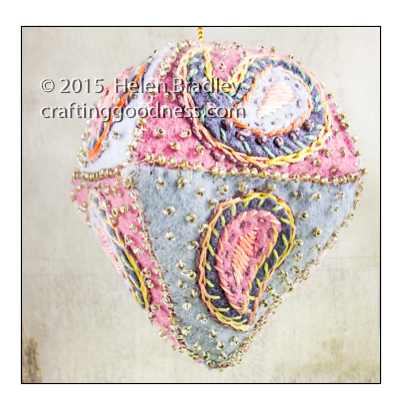 Turn a Paper Mache Ornament into a Felt Embroidery
One of my recent embroidery projects started out simple and certainly didn't end that way! I had a cute papermache Christmas ornament blank that was curved on the top and squarish on the base. I planned to cover it with felt embroidery so I made patterns for the base and top – four pieces in each and cut them from wool felt – I cut two pink tops and bottoms and the same in blue so they could be alternated. I then cut out some small paisley shapes in the same pink and blue and some dark blue felt – there were two sizes of paisleys so they stack.
So, with pieces in hand I embroidered the paisleys and stitched them to each piece. I also added some small glass beads with silver lining which I had recovered from a sweater I bought from St Vincent de Paul.
Then I sewed up the bottoms using more beads on the edges and I did the same for the tops. I put them over the basic shape, added some fiberfill padding between the paper mache and the felt and sewed the two halves together over the papermache shape.
It ended up being a huge project – something simple just took off and grew and grew and grew! Then it got more glittery and more over the top with the beads. The thread I used for some of the embroidery was variegated color so that made it look more colorful too.
It was a fun project and the result is pretty cute, if well over the top.
If you find paper mache shapes in the shops before Christmas – check them out – as a base for embroidery they are a great idea. Make them simple or go for broke, just have fun!