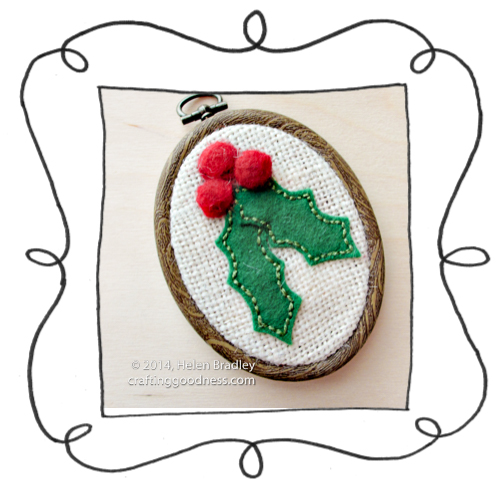 Make this seasonal embroidery in just minutes
There is something to be said for personal gifts and I love to make things to give at Christmas. But when time is short it's tempting to go out and buy something just because it is quick and easy. That's why I love this project – it is simple and quick to make. In fact, once the holly is done, I can do the rest in a few minutes while watching a good movie after dinner!
To make this you will need a small embroidery frame – I get mine online – generally from Etsy and these are a tiny 3.5-4 inches tall and they are flexible so no screws. Inside them I use white or off white burlap – it's inexpensive and much nicer that traditional embroidery fabric as it has a neat texture. Cut out the holly leaves  from green felt – if you use good wool felt the edges will stay nice and the whole thing is easier to sew. Make the holly berries using  a small amount of crimson felting wool and felt the wool into 3 balls. Mine look really plump in the photo but in reality they are flatter as that uses less wool and they sit better on the final piece. Using matching thread, sew the leaves to the burlap then attach the red berries. I finish off the back of my pieces with red felt cut to just smaller than the back of the embroidery. Trim the burlap to 3/4 inch all round, tuck it in and tack the felt over the top. It takes just minutes and it really makes the piece look much more professional.
So, there you have it – a simple holiday felt embroidery project.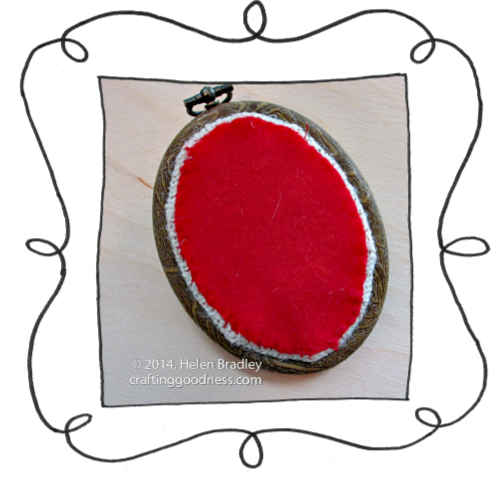 Related posts: