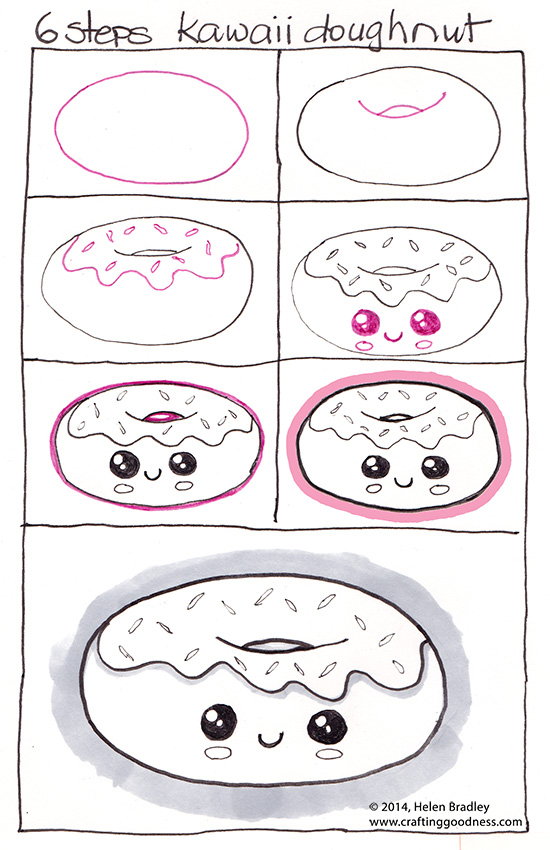 Learn to draw a Kawaii style donut step by step
I don't want to buy into the donut vs doughnut argument here – I am Australian so, to me, it is a doughnut cause it is made from dough. But here in the US it is typically called a donut! Either way, it's a great topic for Kawaii style drawing because it is round and cute.
Here is how to draw a Kawaii style donut step by step. You can adapt this by changing the eyes – I've used large eyes with highlights but, if you're drawing a smaller donut you can skip the cheeks and do solid eyes. It will also look so cute if you add color to the icing!
You'll see I have added some extra thickness to the outside border of the donut – this gives it more shape and it's an effect I like – so think regular thickness lines on the inside and then go over the outside lines once or twice to make them a little thicker. For the outside shading I use Prismacolor markers – they aren't cheap – but I bought a few and the 40% Warm Grey and 40% Cool Grey are great choices for adding shadows to your drawings – they go on nice and semi-transparent and they build up as you draw so you get a nice organic shading really easily.
I hope you enjoy this drawing. If you do, look out for my other Kawaii drawing step by steps: Draw a Kawaii Cloud step by step, and Draw a Kawaii Ice cream cone step by step.
Related posts: