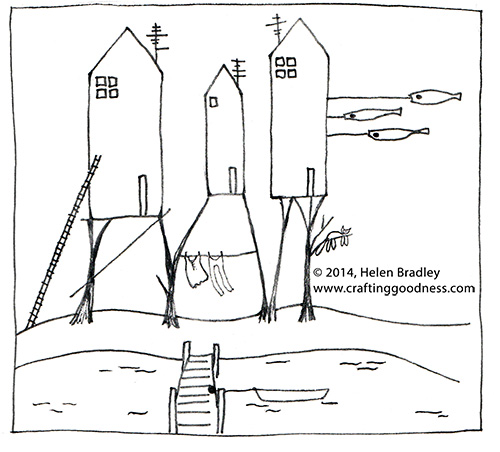 Learn to draw cute houses on stilts
Once you've mastered drawing simple houses why not draw houses on stilts. Draw your regular houses and then, below them draw the trunks of trees. You'll want a couple of trunks per house so they don't topple over. Of course, when you've drawn the trees you will have plenty of room to draw other elements. I've added a washing line, a ladder, a cat, water, a  jetty and a boat. Then, just so we realize that this is all about fantasy, I've added some flying fish.
As always, I'll sketch the basics using a 2B pencil then ink over it with a Sakura Micron pen. Finish off, when the ink is nice and dry with a white eraser to remove any remaining visible pencil lines.