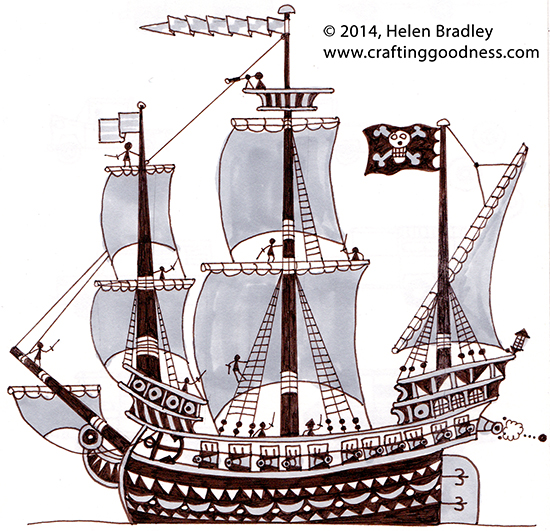 If you've never read Ed's books – it's time to do so  now!
I was never exposed to Ed Emberley's books or his work until around 6 months ago. It was then that his work first came to my notice.  And as often happens, once I noticed him the first time I kept on seeing his work and references to him – all of a sudden he was everywhere.
If you don't yet know who Ed is – he is an artist and he teaches drawing. He teaches it in such a way that you don't use an eraser (which I think is great!) and he builds images little piece by little piece. You make one or two simple lines in each step and, then step by step even a very complex image gets built up.
Many of his books are color based – the Big Purple Book of Drawing, the Big Green Book of Drawing, the Big Orange Book of Drawing and so on. I bought Purple and Orange and his Faces book. I like Purple and Orange best – the orange one is jammed full of Halloween fun and the Purple book has this wonderful pirate ship in it. This ship is the most complex of all of the how to drawings – so it's where I started!
Above is my second ship – the first was a bit squashed up but still great for a first try. Then I did it a second time (above) and it worked out great.
After this I wanted to change the view of the ship. You see the drawing in the book is behind the sails so you look past the masts into the back of the sails. I wanted to draw a ship from the other direction. I confess to needing a rough pencil outline for this but seriously it was done in about an hour and I was really pleased with the result.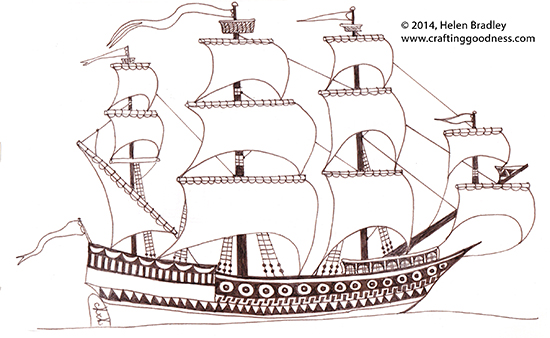 If you want to learn how to draw a range of things then I totally recommend Ed's books.  I have filled pages full of cars, trucks, cats, halloween witches, haunted houses and more! It's fun and achievable. Thanks Ed!
Related posts: