Simple and cute drawings of caravans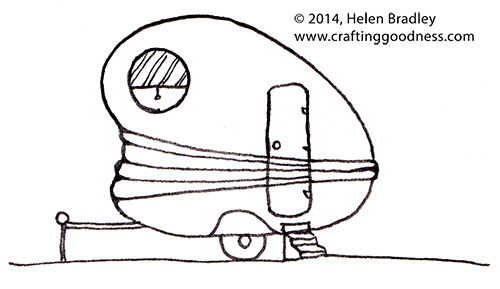 I have a love affair with retro caravans. Not that I have one or want to live in one but I love their shapes and the colors of them. I've been drawing them for years and I even make them into Photoshop brushes. So, on my other blog at Projectwoman.com you can also find and download free retro caravan brushes for Photoshop. These are free for personal use and commercial licences are also available.
Today, however, they are just here for your enjoyment: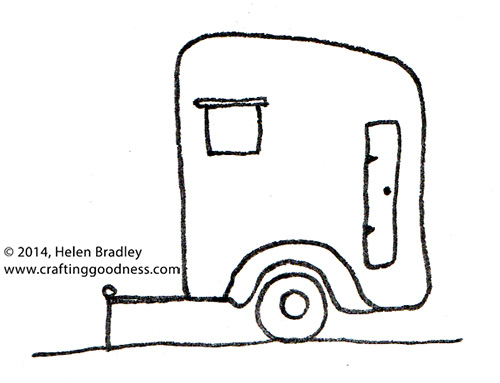 The images are all sketched in 2B pencil. I use a mechanical pencil which I buy and then empty out the leads – they're generally HB so they are too hard for me. I buy 0.7mm 2B leads and refill the pencil with them – it's a bit tricky to do this as you have to shove the lead back down the tube but in 5 minutes I have a custom pencil that works great. I've also been able this way to continue to use the same mechanical pencils for around 15 years, which is great since I bought some great BIC ones in Australia years ago – they are crimson and purple and emerald and purple and I love them.
Used lightly these marks rub off easily using a white eraser – I use a Staedtler Mars Plastic – which is my preference for everyday use.
Once I've sketched the caravans and I'm happy with them, I ink them with a Sakura Pigma 005 or 01 black pen. I love the very fine Sakura pens because, with deliberate heavy use, they tend to bend and flex so they end up being a soft sort of 05 or 08 diameter pen. I get the wider line I like but with a flexible (albeit damaged) tip!
The other thing to like about the Pigma pens is they dry really quickly so you don't get a lot of ink on your hands and it doesn't smudge on your work.
I still leave the images to dry overnight usually before carefully erasing the pencil marks.