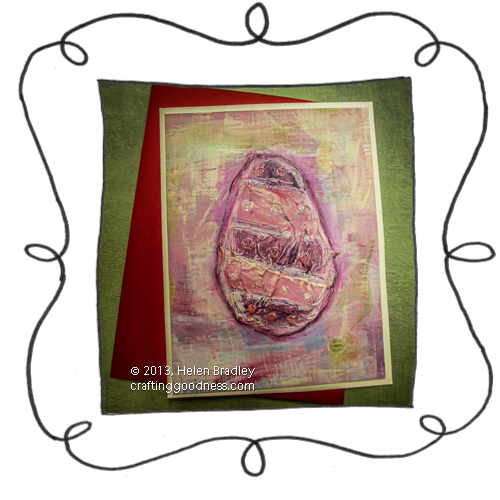 See how to paint with dimension with acrylic paints and dimensional paste
I love to paint cards and one Christmas I made painted cards for all my family. I've also made painted Valentines cards. If you haven't painted since high school then there are some tricks that can help you get awesome results that you may not have learned.
I paint cards like these using acrylic paints – the kind you find in craft stores that cost $1 a bottle. I never use water – either to thin the paint or clean the brush. The brush is cleaned, if at all, using a dry paper towel.
If you want some dimension to the painting you can start with a layer of something. It might be paper glued to the surface or corrugated cardboard or some dimensional paste such as Liquitex Light Modeling paste.
Adding modeling paste as a surface treatment gives a foundation and some dimension to your piece. For a Valentine heart, I would make a heart shape, for Easter an egg or for a birthday a cake shape.
Then when everything is dry I'll start painting. If I want a white/pink piece I'll use a range of colors including blues, greens, pink, red, crimson, and white. I'll add small bits of color to a palette – I use a Ranger craft sheet as it is easy to clean and you can add paints to it and mix them there.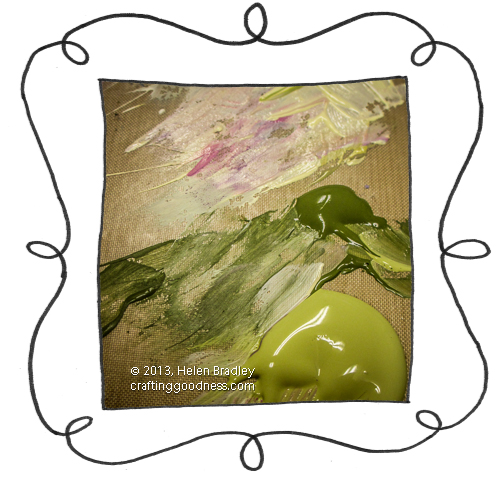 Then I dry brush color onto the piece, building up layers of color as I go. Each card might have 20 or more layers of color on it. Not all layers of paint fully cover the piece – they might just be a touch of color here or there. Don't be afraid to use some dark colors even if you are doing a light piece – they just add dimension to it.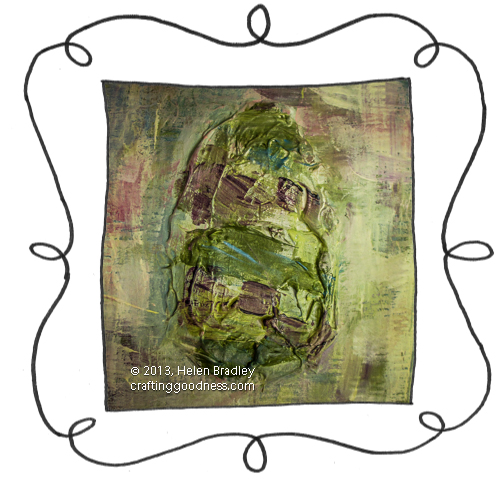 You may want to set aside the piece to dry from time to time and then keep building up color. Because you are using a dry brush and no water the piece will dry pretty quickly. If you like, you can add some glaze medium to the colors so they spread more widely and so they don't paint on so thickly. This also slows down drying so make allowances for that.
When I am done with the paint I like to completely dry the piece and then glaze it with a sepia tone glaze. This can be sepia/brown paint and glaze brushed over the piece and then wiped off. It will pool in the creases and around the edges of the raised elements making an attractive result.
I always paint on a piece larger than the finished card so it can be trimmed to shape. You can either adhere the painting to the front of a card or make a frame for it and place it behind the mini frame.