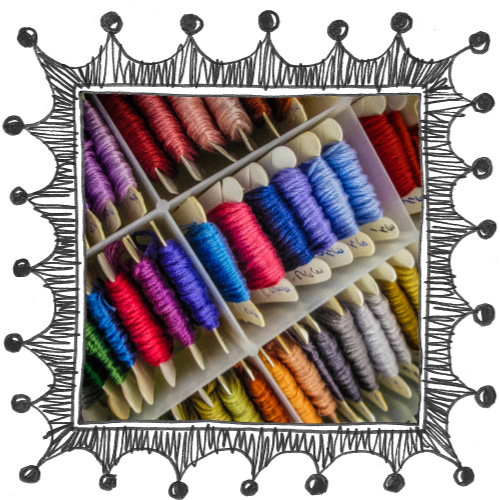 Celebrating a fellow crafter's legacy
A friend of mine recently lost her mum. I had never met her mum but, after she died, her daughter offered me some of her craft supplies. I said a resounding "Yes" and, in time, was given a couple of big boxes of bits and bobs and four containers of thread that you can see above.
Now I am a sort of organized person. I know where most things are but I'm a bit of a "stuff it all in and close the drawer" kind of person. And my friend's mum was not. She was seriously organized. The bins of DMC thread I was given were all boxed neatly, each thread was wound onto a paper bobbin, numbered and stored in bins in number order. The bins themselves were numbered too. Wow!
Well, I felt just a wee bit guilty about my DMC stash when I saw hers. So, I got out my paper bobbins and started winding, numbering and sorting. Seems as though my friend's mum and I shared some color preferences and I now have multiple bobbins of some thread colors but there were others that I had and she didn't and vice versa.
I've now added all my colors to her boxes and I still have a little bit of room to grow. I am staying organized too – when I finish with a color it gets put back into the right box in the right order.
It's lovely to be able to pull out a color of thread and use it – I now have so many colors to choose from and some have her writing and some have mine. Her thread has found a new home and will be used and treasured as the legacy of one crafter to another.
I think that's something worthy of being celebrated, don't you?
Related posts: