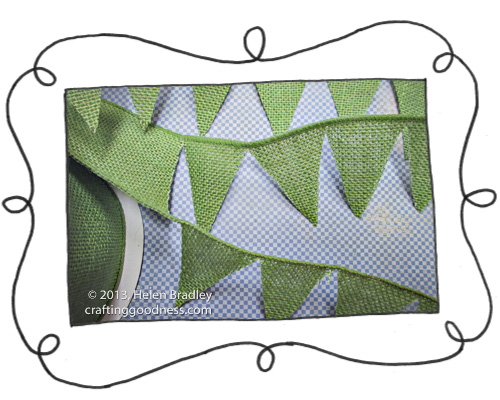 Bunting is simple to make and fun to decorate with so here's my no sew, no glue version of it!
Whenever I am at Michaels, JoAnn or Beverly's I always check out the discounted items. You can often find things that can be used in your craft projects at ridiculous prices.
Some time ago Making Memories rub-ons were being discounted to $3 a set. These used to retail at many times that price so I grabbed a heap of them and tucked them away.
More recently I happened upon some burlap wired ribbon. It is around 3″ wide, which is amazing, it is in a green that will work wonderfully for Christmas and it was quite a few yards marked down to $1. I grabbed it. There is so much potential in using burlap or jute ribbon if you think of it as a medium for embroidery as well as a heap of decorative uses.
However, the first thing that came to my mind was bunting. No sew, no glue, cut it and go bunting! The perfect lazy crafter's solution to making bunting.
So, all I had to do was to make a paper template triangle for my bunting. It needs to be long enough to stretch nearly all the way across the ribbon. You will use the edges to hang the bunting so DON'T cut through it!
I put the template triangle down and used a pencil (or you can use a felt tip marker) to roughly mark the triangle. Move along and mark the next one starting where the last one ends. Continue along the ribbon – I wanted 15 triangles – enough to spell out Merry Christmas with one triangle for the space. I marked the back with a hunking big black felt tip marker – it didn't show through the front so it was a quick and easy solution.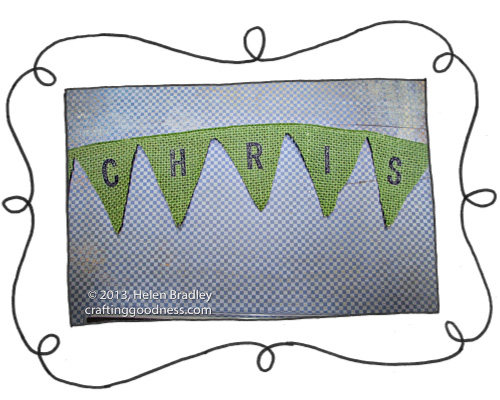 Before you cut – look at your ribbon from both sides – see! you have two pieces of bunting marked out – one attached to each side of the ribbon. Provided you are careful when you cut through your marked lines and if you don't cut through the edge of the ribbon at any point you will end up with two pieces of bunting all ready to decorate and hang. You don't have to sew it or glue it or anything. I did remove the wire from mine as I wanted mine to be a bit softer and to hang more organically but you can leave it in if you prefer.
To spell out the message I just added rub-on letters direct to the burlap – they stick wonderfully. If you don't have rub-ons you can use sticker letters, you can write or paint them, or stamp them. I used rub-ons as I wanted a quick result and I didn't want to have to clean up all those stamps! Call me lazy!

Related posts: