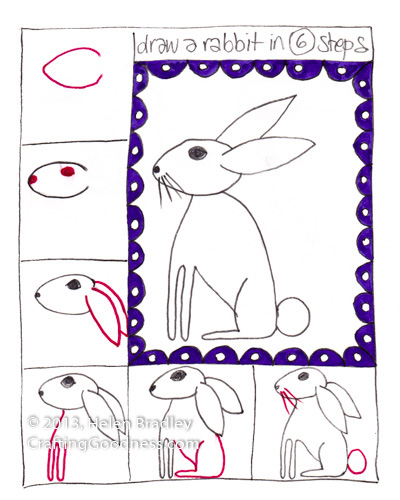 See how to draw a rabbit step by step – no erasing!
One demand I have of my step by step drawing series is that you never have to erase anything. You might want to draw these shapes in pencil and go over them in pen but I want you to be able to just pick up a pen too and draw one with that. I don't want you to have to erase any lines so I design the step by steps so that isn't the case.
I also want to make the rabbits cute – of course – and repeatable. Once you've drawn a few rabbits you should be able to do it anytime – quickly and easily. And give them personality – big ears or not? Cute whiskers and a fluffy tail? Your choice!ears
For this rabbit, start with the head – it's basically just an egg on the side not quite drawn to completion. Add an eye and nose and then add the ears – the front most ear fills the gap you left in the head. Then the front legs and the back and finally the finishing touches – whiskers and tail.
Once you're happy with your rabbit, you'll be ready to draw him in other positions – I'll have a post showing my rabbits coming up soon.
Helen Bradley
Related posts: