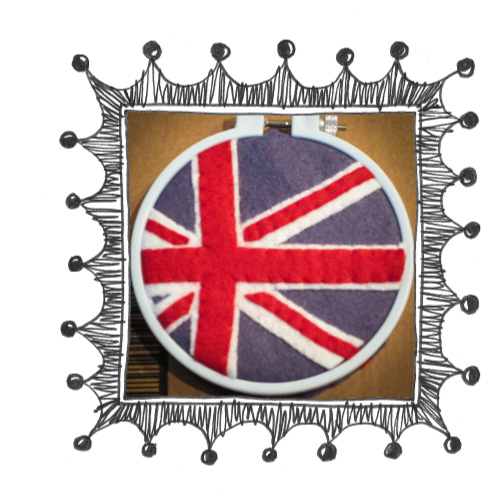 Create a Union Jack Felt Hanging
I've been on a bit of a Union Jack craze lately. Not sure why but the flag has been on my mind and on my worktable. Today it is rendered as a felt wall hanging made inside an embroidery hoop.
Because the flag is a rectangle and the hoop a circle some design decisions had to be made. I decided to place the flag off center and have it fill the hoop. I started out drawing the circle on paper and then I drew the flag inside it to get the dimensions.
Once this is done I traced the shapes I need. I like to design this way – starting with pencil and paper and then using tracing paper to trace the design and create the pattern pieces. I made the pattern pieces wider and longer than they needed to be so they would tuck neatly into the hoop along with the backing fabric.
I assembled everything on blue felt so part of the flag itself is the background fabric. This left me with the red and white pieces to cut out – again these are wool felt. Once I had the pieces cut out, I used a fabric glue stick to adhere the felt pieces so they would hold still while being sewn in place. I still don't have the glue thing down pat  - I'm using a fabric glue stick but the results on felt aren't great – I think that glue is a "work in progress" right now – not convinced that I have the right tool here.
I sewed the pieces using a fine nylon filament thread which is clear so it doesn't show. I made very tiny stitches around all the pieces to sew them in place. One thing about using nylon is that you can't iron it later on so, while it works on felt, I wouldn't use it to sew anything needing ironing!
To assemble everything I undid the frame completely. You'll need to unwind the screw so you can pull the frame far enough apart that you an get all the thicknesses of the felt into the hoop. Then tighten the screw at the same time making sure that the fabric is nicely stretched – it doesn't have to be really tight but it does need to look flat and not bunched up.
Then decide how to hang it – my preference is for a loop of ribbon or felt through the screw fitting and hang it from that.
This was assembled in a small hoop – but you can make it as big or as small as you like.
This project would also look great done in pastel colors – like a dusty pink and blue. Remember that you don't have to go with traditional colors – the design itself is so recognizable that it will work in practically any color combo.
Related posts: