More Union Jack goodness – this time an embroidered pouch
I've been thinking all things Union Jack lately and in my research I found a wonderful pouch from my favourite store – Accessorize. It was from their catalog over a year ago so you'd never get one new. However, I was only looking for ideas so I decided to make my own knock off. Here's the original design: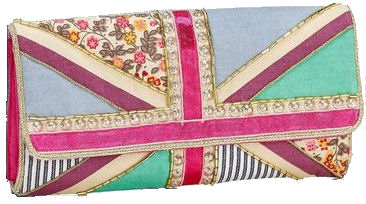 I used a burlap pouch from Target. They had these in the $1 area about a year ago. I bought a lot of them – but it turns out too few of them because they are awesome. And of course, you can't get them any more! I did a post here on making your own if you need to make one to use.
I managed to find one that hadn't been used so I had a good starting point. What I gleaned from the Accessorize pouch was the idea of using different fabrics for the 'blue' in the flag. I had some great 3″ squares I had purchased from Etsy which gave me plenty of good fabrics to use. A search of my ribbon stash turned up a yummy pink velvet ribbon and some pink satin ribbon.
I also planned to use some beads or something dimensional – I ended up using some faux pearls that I bought years ago – they are permanently fixed to the string base so they are easy to sew on – I've used them here and there for projects and I'll be sad when they finally run out – right now there is still a few feet of them to go.
Like the previous Union Jack project I made a template by measuring around the burlap pouch and then I drew the flag onto the shape allowing around an extra 1/8 inch just to be sure it all fit. I cut the fabric to the exact size – no seam allowance as I didn't plan to turn under the edges – rather just sew it roughly to the pouch. What I did do was to use an iron on fabric adhesive which is a filament with glue both sides. It is great for applique and fixes everything in place while you sew and also ensures that the piece will be a bit more resilient in use.
I ironed on the fabric pieces and sewed around each of them. I then added the ribbon pieces and sewed them in place. I finished off with the pearls.
The final result is a bit shabby chic – way more so than the original – but since it is built on a burlap base it seems to work.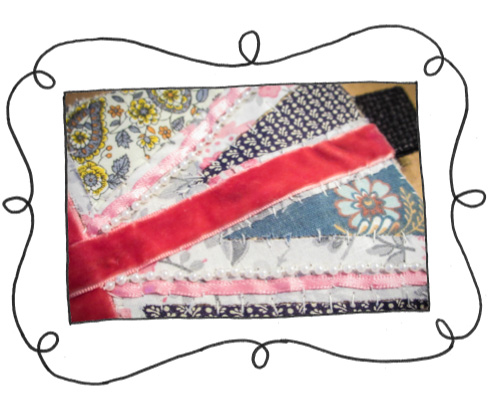 Related posts: