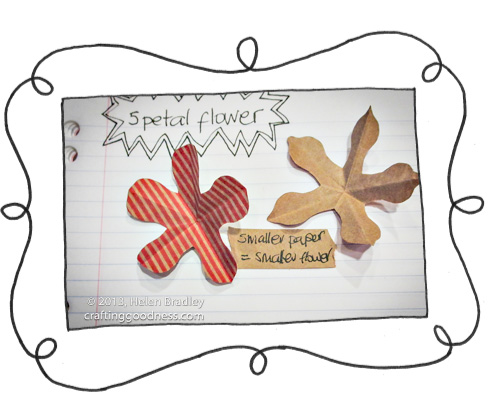 No diecut machine? Want a quick and easy five petal flower? Here's a fold and cut solution
I've been messing around with paper lately and wanting to make paper flowers. Once I had thrown out a few really badly cut designs I went back to the drawing board and approached the situation more methodically and more scientifically. The result? As you will see over the next few posts is that I nailed the process of folding and cutting a 5 petal flower – which, incidentally also makes a 10 petal flower.
Not satisfied with that, I went on to fold and cut a 6 and an 8 petal flower. Then I realized that there was a gap – I could fold and cut  5 6 & 8 petal flowers – and by extension 10, 12 & 16 petal flowers but what about 7 petals. Well they are a whole lot more challenging but – in the end, I found the math and developed a workable and reliable solution to that too.
So, today, we start with the 5 petal flower. This is also a 10 petal flower and it can also be used to make a 5 pointed (or 10 pointed) star. You see whether you make a star or a flower is in the final cut – the folds are the same.
Fold and cut a 5 petal paper flower:
I started with a colorful brown paper bag.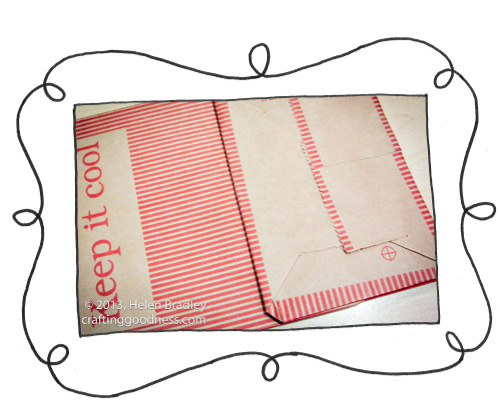 Cut open the seams and flatten out. It's a good weight paper to use and it saves you wasting good scrapbooking paper when you're starting out. I actually used it for my final flowers but you don't have to do so.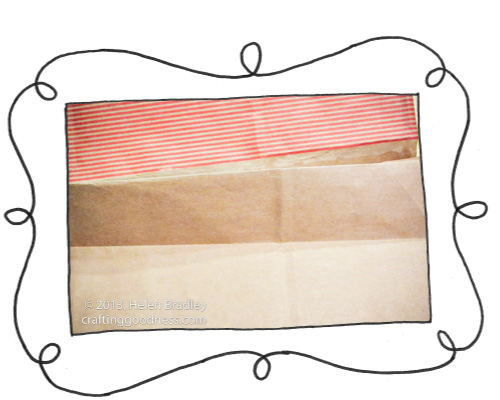 I cut my bag into strips using the folds from the original bag shape. Basically the larger pieces make big flowers and the smaller ones make small flowers. However, bigger sheets are easier to fold so you may want to start with them.
Start with a square of paper.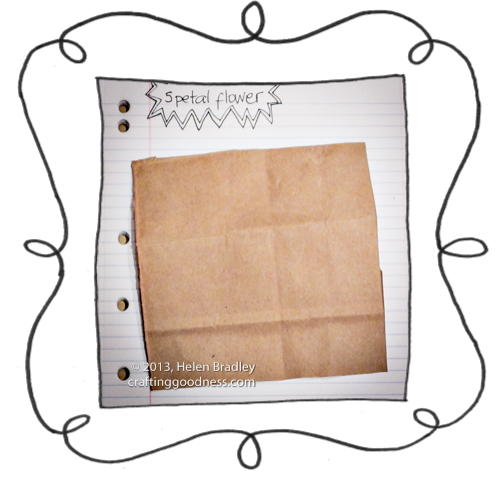 Fold in half as shown.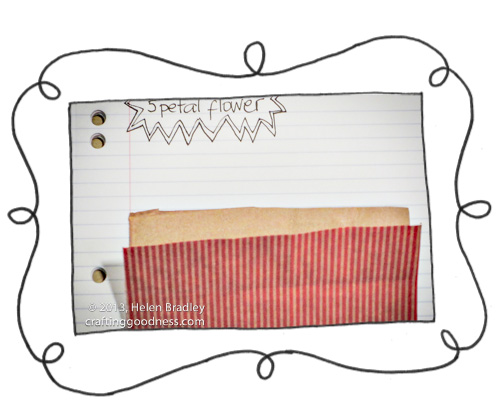 Fold in half again. Crease the folds with a bone folder or the edge of a pen to make sure they are crisp.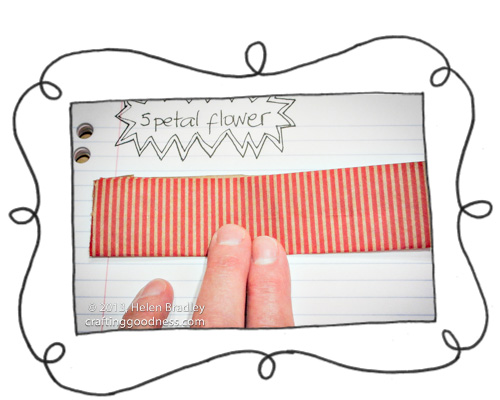 Open up the last fold.
Now fold the bottom right edge up to meet the fold on the short side. You MUST make sure that the first folded edge is along the bottom of the shape when you do this. Note the triangle shape where my fingers are here? This triangle is what you fold next time.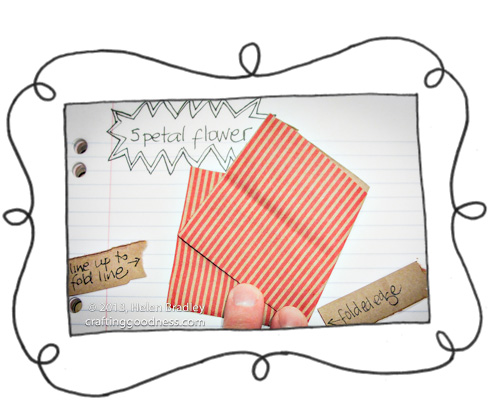 Ok, check the triangle under my finger in the picture above. Go ahead and fold it over the shape as shown. If you are confused which triangle edge to fold it is the bigger of the two.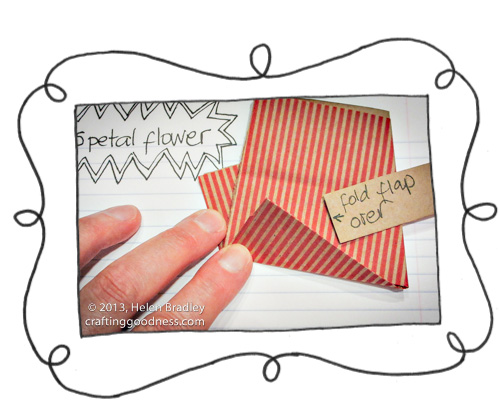 Now flip the shape over on the table.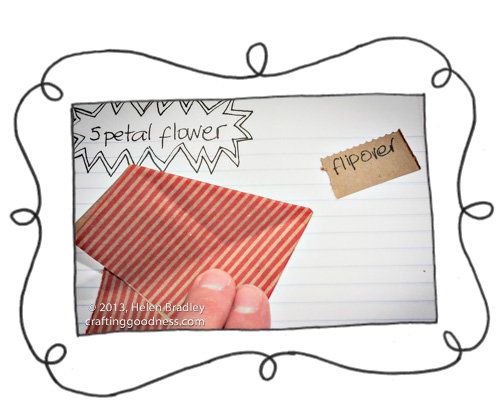 And fold in half.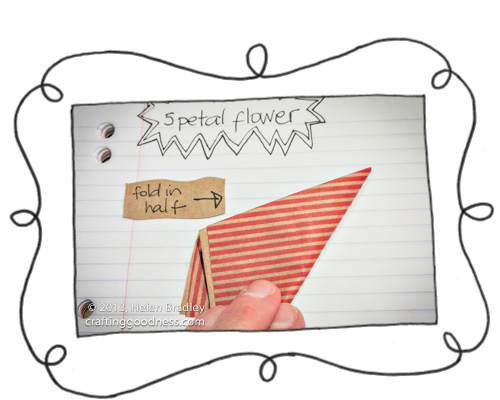 Draw your petal shape – on the side that shows 2 folds.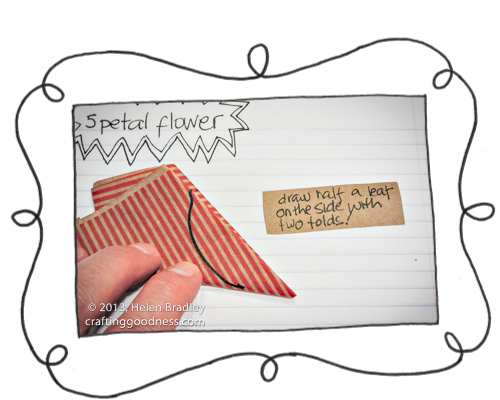 And cut…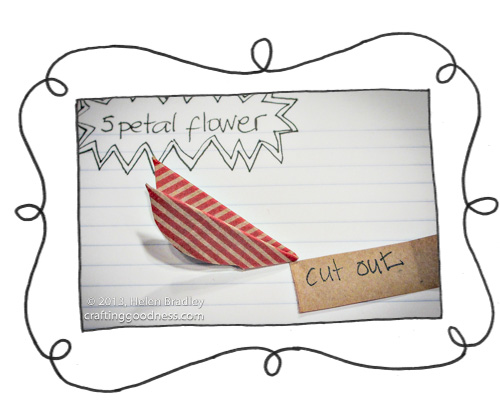 And unfold…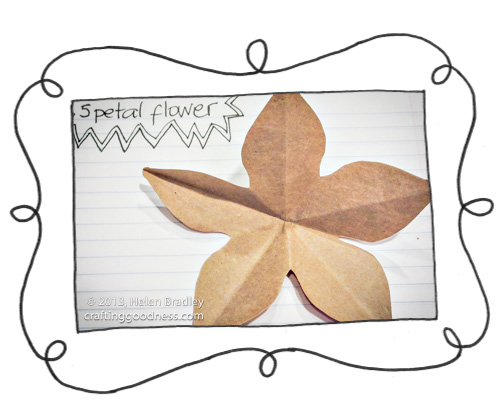 Make more flowers and alter the shape of the petal you are cutting.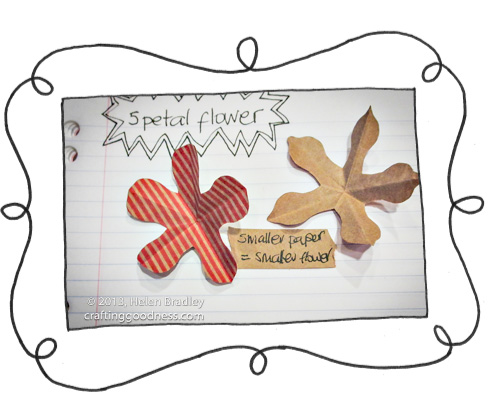 What not to do. Here are a couple of mistakes – first, if you make the fold that crosses the shape with the cut edge at the bottom you end up with two halves of a flower.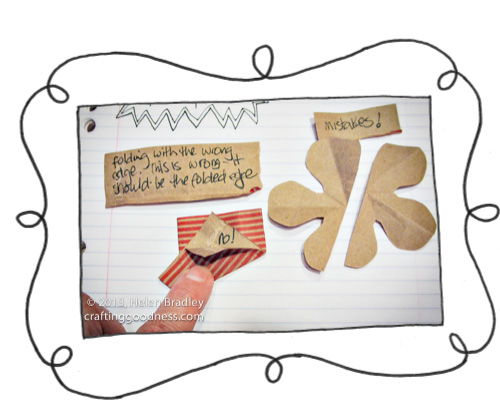 And if you draw your petal inside the shape and not over an edge you end up with a 10 petal flower – not a mistake really just not perhaps what you wanted to  happen. I like 10 petal flowers so I cut a few of these too.