Discover how to sew using a punch needle and how to showcase your work
I recently discovered Punch Needle sewing and I absolutely fell in love with it. It's more skilled than I thought it would be, the results are pretty robust and you can achieve some great results.
Now a lot of people do punch needle to cover a surface and there are a lot of dolls house rugs and small patterns around. I just like to break the mold a bit and up-cycle the craft to give it a new look so I opted for an embroidery hoop project. These small hoops can be purchased in bulk (the way I buy them) or singly at a craft store. They are great to use to frame projects – they are ideal for punch needle since you have to use one to use the punch needle anyway.
I went to my local fabric store and found some great linen. It has a fairly close weave and it is a medium weight. Its  neutral background makes it ideal for a punch needle project.
For this project I used two colors of 6 strand floss. I used a darker solid color for the edge and then a variegated thread for the middle. If you use variegated color thread then you get a mix of colors without having to change color so the piece has a lot of dimension and interest and you don't have to stress over making this yourself.
You'll need a punch and I use and recommend the Ultra punch which is around $20 and which comes with 3 needles and 2 threaders. You really need threaders and these are tagged with white tags so they don't get lost. This punch also has a loop adjustment slider thingie on the side which makes it easy to vary the length of your loops.
To start out, place some linen in an embroidery hoop and mark out a heart shape on the back. Thread the punch with some dark orange color – DMC 6 strand cotton thread is awesome and it is cotton so it works well and has a great luster. I use 2 threads at a time in the punch needle.
If you are unsure how to thread a punch needle the spottedcanary.com website has a simple how to on it – once you've done it a couple of times it will be dead easy to do. If you are new to punch needle, then this is a good blog post on how to do it – created by someone who wrote a book on punch needle crafts.
Go around the heart shape outline a couple of times keeping your stitches close to each other and evenly spaced. You will work from the back of the piece so the loops are on the front. I usually do these two rows at a loop size one smaller that the rest of the piece. This gives it a neater edge and seems to hold the piece together better – particularly since we aren't filling our canvas and we're just filling the shape.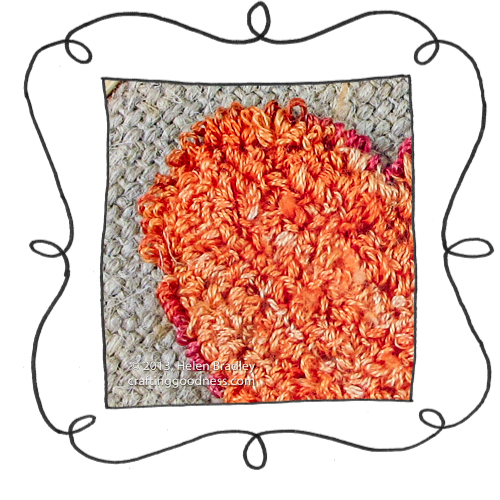 For the middle of the heart I used DMC Variations in an orange color mix. Thread the punch needle with two strands of cotton and start punching from just inside the border round and round to fill the heart. When you get close to the end of your cotton, finish that piece, thread the needle again and keep going until you are done.
Check that there aren't any gaps and if there are then punch over them to fill them.
I removed the fabric from the hoop, trimmed the edges with Pinking shears and put it in a smaller hoop for display. I finished off with a loop of ribbon for hanging.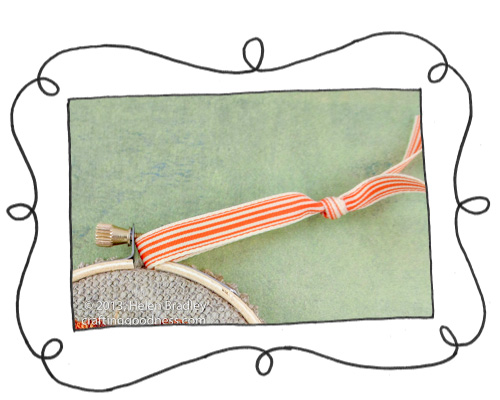 All in all it probably took around a half hour for this project – a quick and fun project that is done and ready to hang in a very short time.