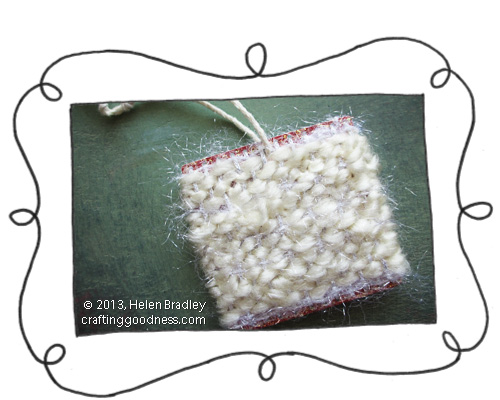 Use a recycled clothing price tag as a weaving loom
In today's post for my ongoing recycled clothing tag project we're creating a small weaving loom from a tag. This one is fairly easy to do and very forgiving. Because the tag is two sided, the wool runs all around the tag so you don't go backwards and forwards and the edges don't need special attention to make sure they don't pull inwards.
Start by punching two rows of holes – top and bottom. This is for the warp threads. I used some fiber that isn't fluffy so it is smooth and easy to work with – the fluff comes later.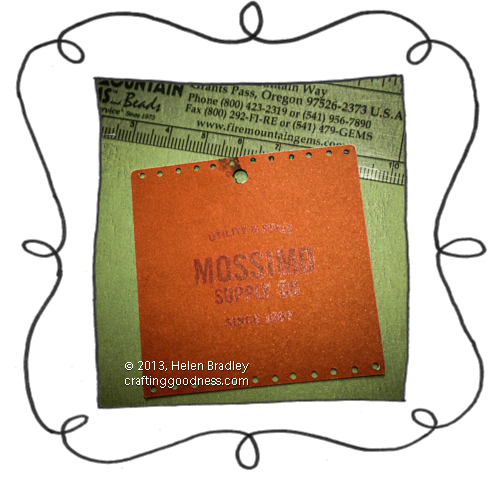 Once the holes punched, thread a large eye needle with thread. Tie a knot big enough to stop the fiber pulling through the hole and start stitching the warp threads. Go in a hole, across and down the tag and in the bottom hole. Continue on the other side so each side has warp threads.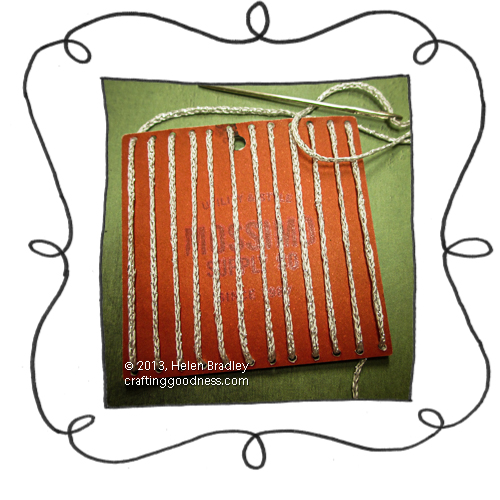 Now get out some yummy fiber. I used fluffy white fiber and just wove over and under all across one side and then around onto the second side. Continue to do this for 3-4 rows.
Then, for a change of pace, get another fiber. I used a white metallic style fiber which is thin but sparkly. Because it will sort of disappear into the weaving you will do an even number of rows in this fiber. I chose to do two rows.
Don't break off the thick fluffy fiber, just continue with the thin sparkly one and do two rows. Leave the fiber end loose and now go ahead and do 3-4 rows of the thick fiber. Alternate 2 rows of thin fiber with 3-4 rows of thick fiber until the weaving is all done. Periodically push the fibers up towards the top of the tag so the weaving is pretty tight.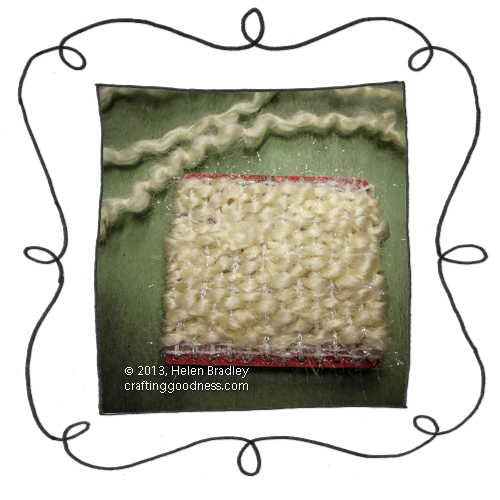 Once a thread is nearly done, stitch it back through the existing weaving to hide the end and stitch the new thread through it too so you can start weaving with it. You don't need to be very careful about this since it won't be under any pressure – just make sure the ends don't show.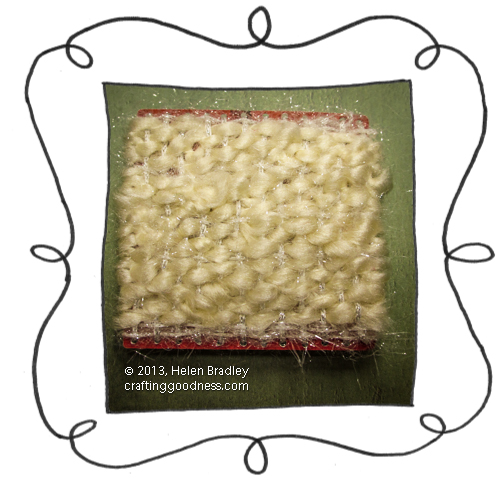 To finish off, thread a loop of fiber through the hole in the tag and you're done. This would make a cute tag for a winter or Christmas gift – you may even stitch a metal snowflake onto it to make it even more seasonal.
Related posts: