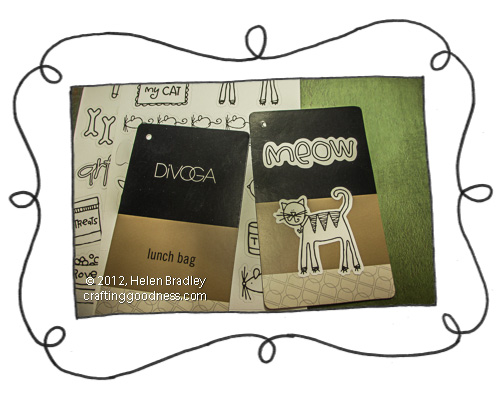 Recycled clothing tag project – adding fun with color me stickers
These tags just put themselves together. The pair were striped in three colors with just a little bit of text on them. This was simple to cover up with stickers and for this set I just had to use these Heidi Grace Doodle Cat stickers. I have a few collections of these fun stickers but haven't found a use for them before.
That's what I love about this project – it's a great way to use up stuff from your stash – particularly things you love but haven't yet found a use for. I would never but never go out and buy anything for this project – for it to be a success it really should be a time to use wonderful stuff that you love.
I think these are two of my favorite tags – making a pigeon pair always makes a project look more cohesive. I'd have loved more than two – but that was all in my stash! And this is a recycled project so I can hardly go out and buy more lunch bags just to use the tags, can I?
Related posts: