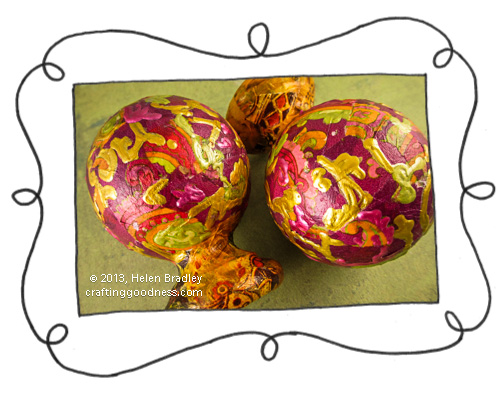 In a recent post I looked at making finials covered with polymer clay and molded gingko leaves. Today it is all about decoupage – covering with paper and glue.
For these finials I used papers and glue from Decopatch. This is a European company that used to have a US branch but which is now mainly just available in Europe – you can buy supplies from the UK site: www.thedecopatchplace.co.uk. They make wonderful decoupage papers, awesome glue and lots of cool things you can decoupage on – think paper mache hearts, giraffe and everything in between! In fact it's worth the shipping cost to get supplies from them.
Here I've used their paper and glue. Tear the paper into small pieces – always tear and never cut as you want the nice soft edge that tearing gives you. Liberally paste up the surface you are working on and brush paste onto the paper too and then apply. Press the paper onto the surface – this isn't a time to get all weirded out about having messy fingers. Continue until the piece is covered. Finish with a coat of glue and set aside until dry.
When dry I added some Ranger Liquid Pearls dimensional paint elements. I went over some of the shapes with the paint – it is easy to apply straight out of the bottle and it dries with some dimension and a pearly luster so it gives a raised look to the finished piece.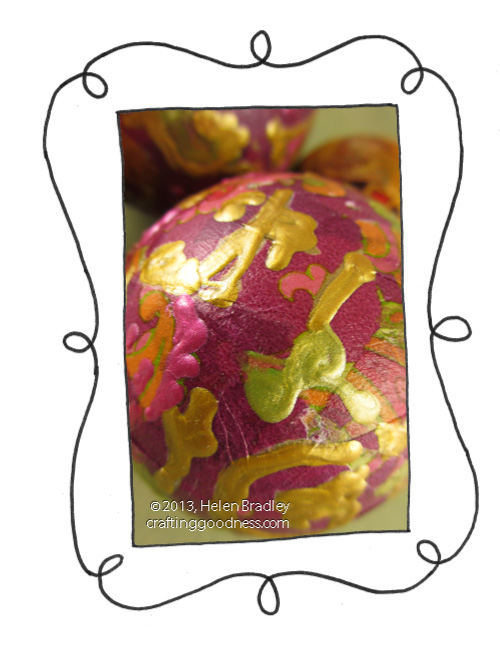 When you are done add a final coat or two of varnish – so you can just wipe the finials clean with a damp cloth in future and you're good to go.
Finials can be found at your local hardware store – they are raw turned wood with a screw base so they are all ready to screw into the ends of your curtain rods.
Related posts: