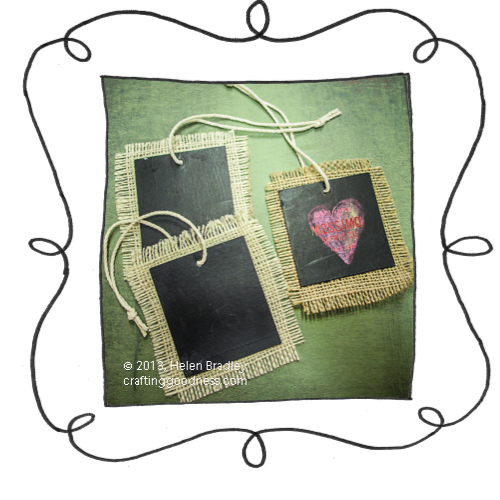 Dust off your chalk and duster and make these reusable recyclable mini chalkboard tags
Today's post in the series on recycling clothing tags looks at making chalkboard tags – simple and fun and everyone probably has a container of chalkboard paint these days. If you don't then check out your local store – companies like Plaid sell it in 2oz containers perfect for small craft projects like these. The paint is really nice and pretty opaque so it goes on thick and gives good coverage.
Here I took three identical tags and just gave them two good coats of chalkboard paint. I chose tags that were mat cardboard with a sort of porous surface as the paint sticks to them. The tag that was shiny coated cardstock hit the bin really quickly as the paint just didn't adhere and it came off as quickly as it went on. I guess you could sand the surface or gesso it but these are recycled tags and you don't want to get too fussy with them.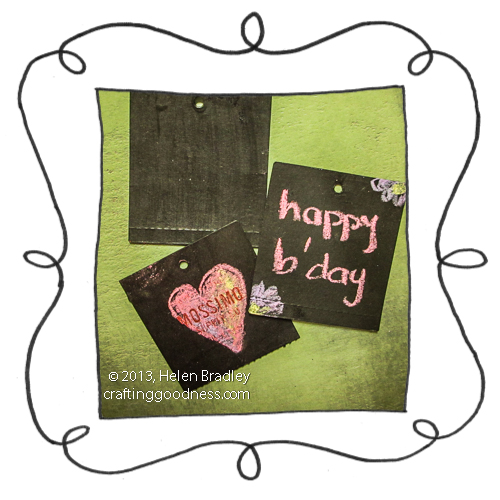 Once dry you can write or draw your message in chalk. If you use the side of the tag that has embossed text on it from the manufacturer you will get the pattern through the chalk. You can see here that my tags were from Mossimo!
These tags could be used for gifts or to hang from baskets or jars to tell you what is in them. Lots of uses – tons of fun and Oh! so simple to make. For a special touch, cut a piece of burlap or linen just a bit larger than the tag and adhere the tag to the fabric. Make a hole through the tag and the fabric and loop the string through that.