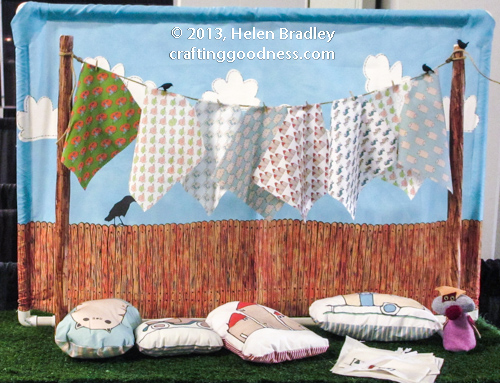 I exhibited at the Craft and Hobby Association a few weeks ago. One problem I always have there is how to display my stuff. I'm exhibiting with designers so it has to look – well – designed and it can't be just thrown together. Because I have to fly to the show, I have to do something light weight or ship it or buy it there. I don't like risking the buy it there option as I get to the show the night before and most times I have to teach the next day so there is precious little time to go shopping and make stuff.
I like to be able to carry stuff there and not rely on others to provide it. I've been in the position of waiting for things to arrive, having them not arrive or not being there when promised – or I've witnessed it happen to others and this just doesn't do it for me. So, what to do? I looked around Pinterest for ideas and searched the web  and finally came up with an idea.
I was exhibiting fabric designs so I decided on a washing line theme – a back yard fence and a washing line. Then I designed it and as I did I realized I was painting myself into a corner – I needed too much help to do it and that, again, put me at the mercy of tradesmen – finding them and getting it done. A few calls around told me the job was too small for them and too big for me. Then, one night, I discovered the world of PVC pipe. Yeah! PVC pipe can be cut by hand and it is light. You can assemble it easily and it is cheap! What more can you ask?
I drew out my shape and made sure all pieces would be short enough to fit in a suitcase – if not I planned to cut them into pieces and join them with a connector. I worked out what I wanted and went out early to the hardware store. Early is good because I found someone there who would cut the 3/4 inch PVC into 6′ and 4′ lengths – it is 10′ in the store but I can't carry that in my car! Luckily I had pen and paper with me because some connectors weren't available and I had to do a quick redesign to determine which bits I wanted. I bought a few end caps, some three way connectors, elbows and straight connectors and lots of PVC pipe. All up it probably cost around $20 and I bought a set of ratchet cutters – they are essential – the PVC isn't dead easy to cut but with these it is certainly doable – in fact I did it all myself.
The background I made from fabric. I simply designed an image the size of a yard of lightweight canvas fabric in Photoshop and had it printed at Spoonflower.com – that probably ended up cheaper than printing on paper at Kinkos! I sewed the fabric so it had pockets on three sides and so the pipe would thread through it.
With everything tested and assembled at home before I left it all went together seamlessly at the show. One thing I would do next time is to mark the pieces after testing everything and before taking it apart as it was a bit of a  puzzle to put things back together at the show. The cutters made a handy hammer for putting the  pieces together and I didn't glue them as they were sturdy enough without. I also found a set of multi-grips were handy to get the ends off when I put them on the wrong way!
I colored some brown paper to cover the PVC uprights for the washing line and used string for the line and small scrapbooking pegs. I found some awesome blackbirds on paper clips that I pulled apart to put blackbirds on the line and I added one to the fence design too. I finished the display with some fake grass – you can buy it from Amazon.com in about any width and length and it worked well when stuck down to the table top with velcro tape.
You can find the blackbirds here: http://www.save-on-crafts.com/birdsonawire.html
Would I do it again? Yes, without a doubt. The flexibility you have with PVC pipe to create things and the ease of working with it and assembling it and the low cost of getting custom fabric printed at Spoonflower makes this totally doable. It would work for a craft display or craft show and, if you glue the PVC to its connectors it won't go anywhere and could hold children's cl0thes or similar.
Related posts: