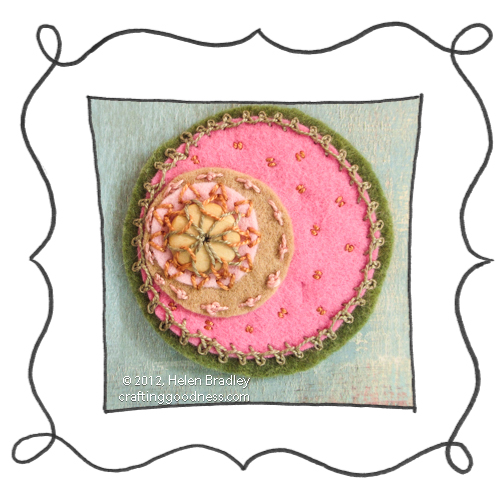 This is my newest felt circle project and it is so amazingly beautiful. I've been experimenting with stitches again and this has a Double Knot stitch and a Rosette Chain stitch. The Rosette Chain stitch is such a cute and lumpy edge  stitch and it gives the pink layer the look of a raised edge. It is, however an unforgiving stitch and it's not easy to get it looking beautiful – I found I had to make each stitch very carefully – tweaking it into place with the needle. The result is great and worth the effort but it is that – quite a bit of effort because it really doesn't want to form that nice loopy look!
The color scheme here is lovely – soft pinks, light tan and a dark olive green. The pink felt is quite bright but it gets tempered by the other colors so it doesn't look so over the top.
Row 1: A sort of triangle stitch – just straight stitches make into a triangle shape. Interestingly I can't find this stitch in any reference book – I'll have to do a  how to for it.
Row 2: Double Knot stitch – this is a stitch with a knot on one end and then another small stitch added to it to make it balanced. It's quaint.
Between this row and the next is seedling stitch – I usually make it with one stitch at a time but this is two side by side – it's very pretty and you need less of them to make them look right.
Row 3: Rosette Chain stitch – a wonderful stitch with a raised look to it.
The bead is held on with one of my new flower stitches. I did this in two colors – you can see the green stitches are the ones which hold the bead on and the tan ones are the loops that make the flower.
Related posts: