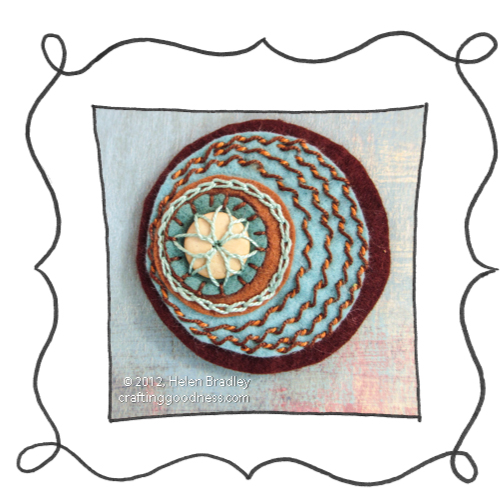 This is another of the felt circle projects that incorporates a flower center used to sew on the bead. I also used a whipped running stitch all around the larger circle in brown and tan cotton that looks just so amazing and is so simple to do.
The color scheme is an old favorite you just cannot go wrong with brown and blue – or pink and brown for that matter, they were made for each other. This scheme is brown and tan and two blues – one light and bright one and one sort of dusty turquoise. The thread are, as always, DMC #5 pearlized cotton – it is a treat to sew with and way worth the price.
Row 1: Blanket stitch – the edge of the stitch is on the outside here. The uprights for the stitch have been used to help anchor the stitches which attach the bead in this amazing flower shape.
Row 2: Chain stitch. Another simple stitch that looks great in a contrasting color.
Row 3: Lots of rows of whipped running stitch – first sew the running stitch then whip it by looping a thread in and out of it as required. The whipped effect lifts the running stitches and gives the project some extra dimension.
Related posts: