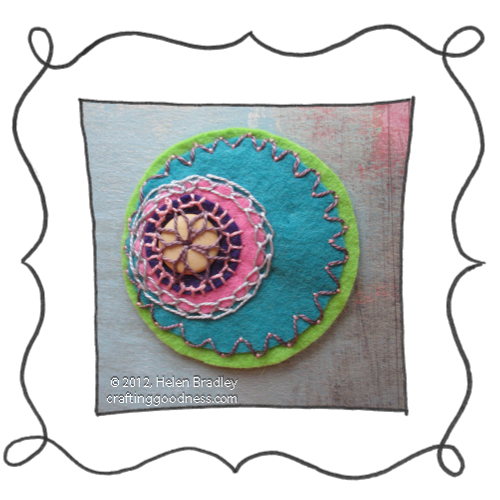 This is the latest in my felt circles project. If you've been following my blog you will know that I have been embroidering felt circles for some time now. This one marks a slight change in direction. With this one I discovered that I could make flowers on the bead by stitching the bead on using pairs of stitches all around. Then between the pairs I looped some thread around the stitches and pulled it a little bit and voila! a flower – it is totally awesome. I plan to do a post on this process but for now, here is this project.
I didn't pick the colors for this – someone else did but I really like them. They are bright without being over the top and the stitching came out looking great.
Row 1: Trusty blanket stitch. Depending how you start it the line can be on the outside or inside edge of the stitches. Here it is  on the inside and I used it to catch the stitches anchoring the bead to make the flower.
Row 2: Double chain stitch. This is a good stitch for going over the border of two pieces of fabric and, when you look at it you can see the double chain bit – the chains are laid down almost side by side instead of one in front of the other.
Row 3: Love this. It is a filling stitch called Cloud Filling. You make a set of offset very small straight stitches in two rows and then loop a thread through them – I used a contrasting thread and the effect is a sort of curvy stitch. These filling stitches that have multiple colors aren't much more effort than a regular stitch but they look great and they are well worth the effort of making them.
Related posts: