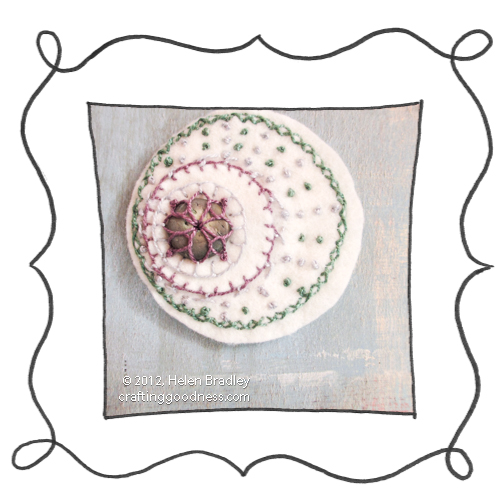 The big challenge with this color scheme is that it is white on white on white on white! Needless to say I didn't pick the colors – someone else did for me. I always get a challenge when someone else picks the colors and this was a big one. I wanted to use edge stitching that drew attention to the edges because precious else would.
Row 1: Blanket Stitch – the outside edge is along the felt edge.
Row 2: A mini sort of edging stitch started out being scroll stitch but ended up being a small blanket stitch. There are limits to just how close you can get to the edge of a circle of felt even when it is wool blend! Looped around the outside of this is a set of loop stitches.
The filler stitch is alternating colored french knots.
Row 3: Cross stitch – each stitch is bumped up against the next.
The center is my floral stitch – lines of stitches pulled into a flower shape.
Dare I say it, I think I'll be cutting out another set of white circles later on and trying this again. It was a great challenge and I think I can  do better still.
Related posts: