Simple to make and generally awesome are these mini felt houses
Building these felt houses is a fun project – they are small enough to look so cute and there is just enough room to enjoy stitching without getting bored by the repetitiveness of it all. Better still they are a great project for recycling small jars such as jam jars or condiments.
This house is built on a really small jar. It was actually funny, I put the paper mâché cone on top of it and it practically disappeared inside it. It was so freaking cute.
Here's what you need:
Tiny recycled jar with lid
Paper mâché cone
Felt in assorted colors
DMC #5 Pearl Cotton embroidery thread – assorted colors
Fabric glue stick
Scissors, pen, pencil, paper, embroidery needles
Draw a smallish circle (around 2″ diameter) on a piece of paper, cut it out and fold it in two. Hold it against the bottom edge of the cone as a  template for the half circle cut out. Draw the shape on both sides of the cone so you have a front and back door for the house. You need to make sure that you have a good size cutout so you can see the jar but not so big that you will see the jar lid – the lid has to be well inside the cone.
Once you're sure it will all work, cut out the two half circles – regular scissors work fine – it is just paper mâché!
From here you can do pretty much as for the earlier house. I made a template for the roof in paper, cut it out in felt and sewed the main seam. Then I trimmed the bottom edge of the felt to around 1/4 inch beyond the edge of the cone. I cut small scallops into the edge and hemmed them with a buttonhole stitch.
I cut small circles of white felt and sewed them onto the roof with chain stitch. When the roof was done I used some fabric glue on the cone and glued the roof in place.
In this case the house was a little easier to do as the jar is round. I still make a pattern from paper and work out where everything will go and test it with the roof in place before doing any sewing. I then cut out the felt leaving a small extra seam allowance, then embroider and appliqué it.
I pin the felt to the jar, trim any excess and sew the seam. Then I cut a piece of felt the size of the base of the jar plus 1/8 in and sew it  to the sides.
When I am done, I glue the felt to the jar, glue the lid inside the cone and it's all done.
I am imagining a small cluster of these houses – and perhaps some trees to go around them… right now … all in the planning stage.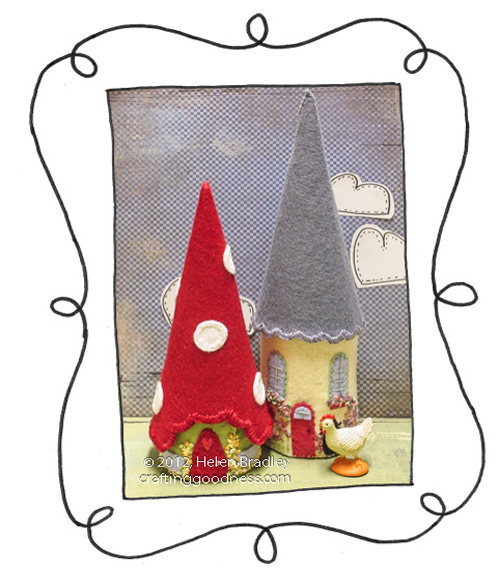 Related posts: