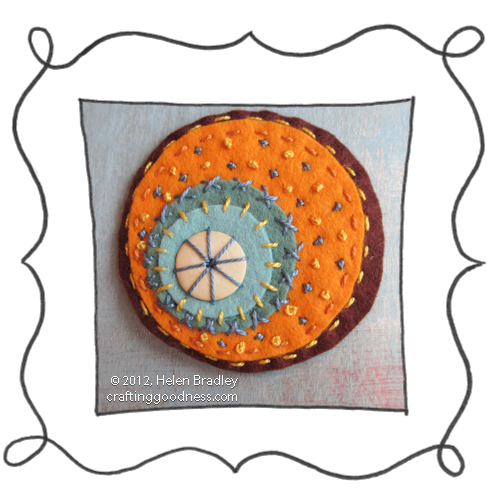 This luscious felt embroidered circles project incorporates one of my favourite color schemes – orange, brown and blue – it reminds me of oranges ripening on the trees in the summer sun.
The stitches are probably the easiest to do and practically everyone will have these in their repertoire.
Row 1: Straight stitch in yellow – only trick is that you're sewing in a circle so you have to make the stitches go out like spokes on a bike.
Row 2: Cross stitch. Always a winner this stitch is simple but it looks great.
Row 3: Plain old running stitch – the trick is to get nice evenly spaced stitches and all the same length (and not end up with a short or long stitch at the end!) – ok not so easy perhaps.
The space in the larger orange area on the circle is filled with french knots of alternating colors. The trick to getting French Knots right is to hold the loops of thread around the needle and over the stitch  as you pull the needle through – provided  you hold the wrapped loops firmly they run off the needle and right into place – if not – disaster!
I now have a  plan for these circles – they are going to be on display at the Winter CHA Show in Anaheim in January, as part of a Crea8time display – the theme of which is making time to craft.
Related posts: