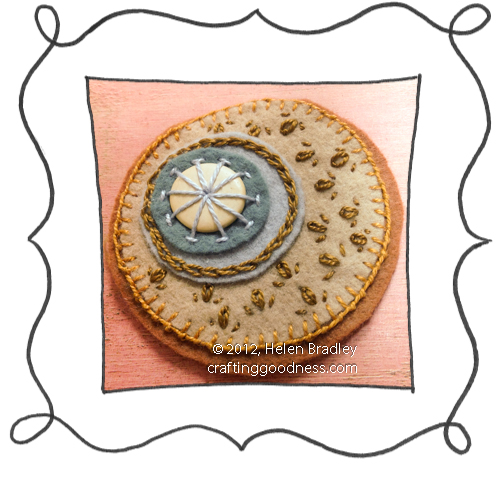 My commitment to new color schemes begins – here I have a combination of tans and blues – mainly tan but the blue balances it out. Here too I am trying to use some detached stitches as filling stitches and to work out how to space them around the piece. This wasn't a very scientific process but it worked out quite well I thought.
Row 1: Running Stitch – the stitches that affix the bead are stitched into this Running Stitch so it all looks way more difficult than it really is.
Row 2: Chain stitch – this is a lovely stitch to make – there is a certain pleasure in loopy stitches like this and the tan thread on the blue looks great.
Row 3: Knotted Button Hole Stitch – this is unpleasantly hard to do – you have to nurse each knot in place – probably won't bother doing this one again!
Between rows 2 & 3 are some detached Lazy Daisy stitches and some small straight stitches in a pattern used as a filling stitch.
Related posts: