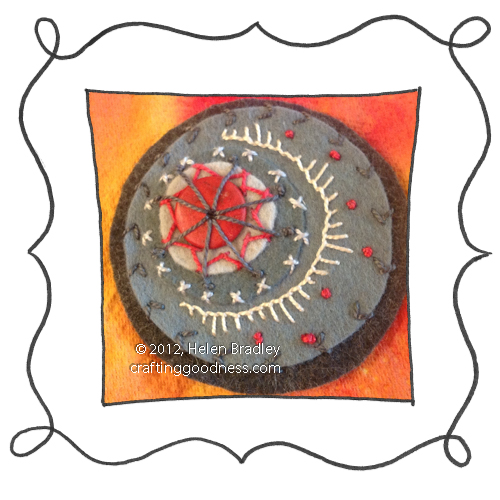 Ok, so the gray wool felt supply is running a bit low so as of now I think I need to find some new colors to use! Today is one I got to celebrate using one of the red beads – they are getting low in my stash but this one looks great if I say so myself.
Row 1: Herringbone Stitch – always looks good in a circle but this circle is so small that you really have to place each stitch carefully to get around it neatly.
The bead is stitched using long stitches finished with French Knots.
Row 2: This row is detached Cross Stitches – they are a cute and pretty easy stitch to do and work well spaced around the edge of the circle.
Outside the edge of row 2 is a row of Long and Short Blanket stitch – I am still struggling a bit to get this really neat – it's better than my previous effort but still far from what I want it to look like.
There are also some French Knots scattered here to fill the area.
Row 3: A sort of incomplete Fern Stitch – this is a two part stitch one part of which is made inside the border and the other outside it – it makes a small "V" shape – a fern stitch would have 3 pieces to it but I left the middle bit out. I wish I knew the real name for this stitch, I can't believe it doesn't have a name?
Related posts: