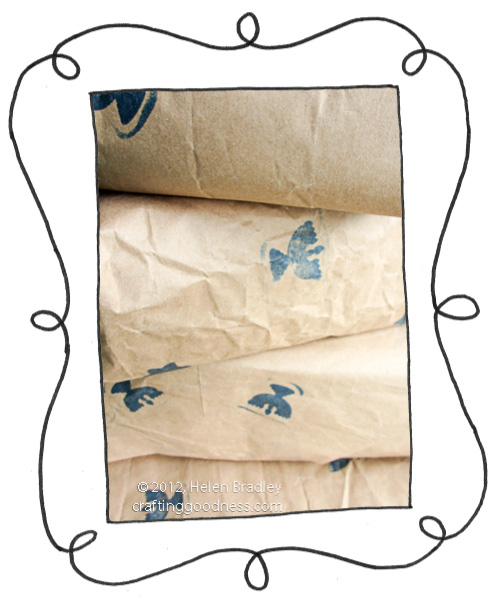 Recently a lot of companies – I think Amazon included – are using scrunched up brown paper as a packing material. It comes perforated and it is about 15 inches wide and each 'piece' is 8.5 inches deep. I've been saving it up because it is nice clean brown paper and it flattens and folds up pretty neatly.
I put mine in a stack under some  heavy books so it flattens out nicely.
With all the paper I had mounted up I was thinking about what to actually do with it. Then Hanukkah came around – at Hanukkah you give  8 small presents so it can chew up a lot of paper – and I had a lot of paper!
Shortly before Hanukkah I was shopping at our local supermarket and they had foam stamps in Hanukkah shapes – a menorah, star and so on. The light bulb went off. I bought the stamps – they were about $4 and dug out my Ranger Adirondack Denim ink pad – it's a great blue ink – and Hanukkah colors are blue and white so everything was ready.
Now you could iron your paper if you want to but I left it as I had it stored. I smooth and flatten it and fold it up so it is still a bit scrunched but it looks cute.  I lined up the paper on  my desk and got to work. All it needed was some stamped images – I did 8 images per panel and did a whole bundle in around 5 minutes. The ink dries pretty much as you work so I just folded the paper up concertina style as I had finished each set of panels.
The paper holds up well for wrapping. The perforations don't tear open if you're careful – and because it is perforated you don't really need scissors except for small gifts. Because it is kraft paper you could finish by using string around the parcels for a cute look. It's simple, effective, inexpensive and a great recycling project.
I am already making paper for Christmas – this time I'm making stamps using some foam sheets I have  and for birthdays – think cupcakes, streamers, balloons – it's too easy!
Related posts: