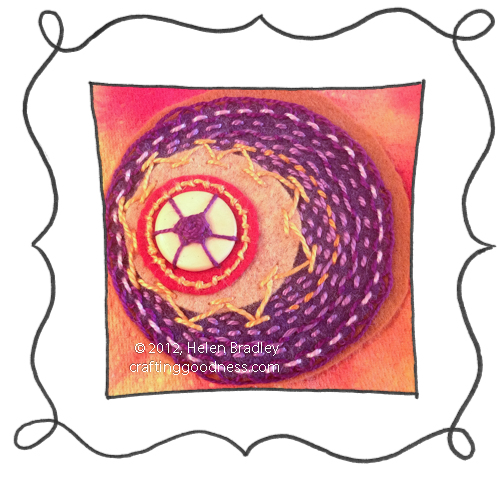 This piece in tan, sand, purple and red really was fun to do and I did quite a lot of experimenting with stitches here including a multicolored one.
Row 1: Coral stitch – this is a pretty simple stitch to do and the knots are pretty easy – as with anything in a contrasting color you need to get it spaced right or it is pretty obvious you didn't!
The bead is held on by a series of long stitches and they are enhanced with a few rounds of weaving around the stitches.
Row 2 – Chevron Stitch – not to be confused with Herringbone Stitch, this one has bars top and bottom and the angled pieces come from these. It is a cute stitch and works pretty well around the circle here.
Row 3 – At the very edge is a row of Pekinese stitch which is basically a row of running stitch with a contrasting color of thread looped through it. Here is it a bit lost because of the colors I used but it is a nice stitch.
Between the rows 2 & 3 are lines of running stitch two of which are laced with a contrasting color thread.
Related posts: