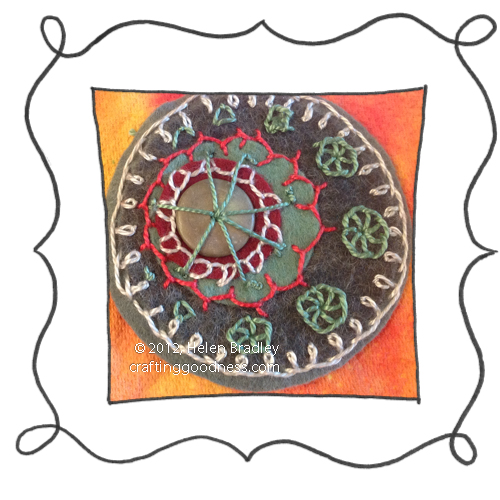 I love this circle – it is a bit understated and conservative with a touch of color!
The colors  are dark and light grey, grey green and a crimson – but it isn't those colors you see at first glance, instead it is the pink/red thread in this project really makes it. The stitches were a bit of an experiment – some old favorites and some new ones too. I love this piece it feels warm and tactile and the dark gray felt is one of those that has some wool in it that didn't dye properly so it's sort of mottled to boot.
Row 1 – Closed Blanket Stitch – I am just realizing how often I use this stitch – I didn't think I did but I do use it. I like the triangle appearance of the stitches.
The bead is attached by long stitches ending in French Knots.
Row 2 – Open Cretan Stitch – This is the pink row and the alternating character of this stitch makes it look very attractive and it looks like it covers a lot more area visually than it really does.
Row 3: Basque Stitch (aka Twisted Daisy Border Stitch) – this twisty sort of blanket stitch variation is cute and I think I should use it more than I do. It's pretty easy to do once you get the flow of doing it and the twists look great.
Between rows 2 & 3 are Buttonhole Wheels – basically a form of blanket stitch done in a wheel shape around a central spot.
Related posts: