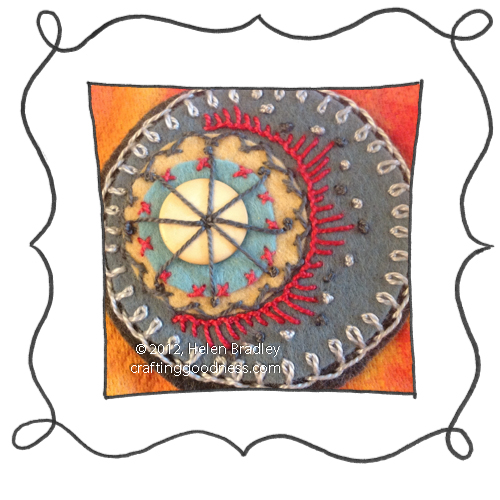 I love gray – my school uniform was gray and I've always loved it as a color so here is yet another color scheme founded on gray, this time with some red and blue. I did stitches I have done before but some different arrangements of them.
Row 1: Tiny red detached cross stitch are used around the edge of the first circle. Again, getting the spacing right is critical or it is really obvious.
The bead  is attached with long stitches each finished with a French Knot.
Row 2: Herringbone Stitch – a fun stitch to use to run around the edge of a shape and one that adapts well to stitching in a circle. I love this stitch as it is basically the stitch I use when hemming fabric it's nice to use it in embroidery when it actually gets to be seen.
Row 2: The outside edge of the sand color felt is a row of Long and Short Blanket Stitch – it is a bit more bendy than I wanted it to be. In retrospect if I had tested the stitch position before stitching it I might have made a neater job of this stitch.
Row 3: Basque Stitch (aka Twisted Daisy Border Stitch) – this is a twisty sort of blanket stitch variation that I had used before on the edge of another circle. I like it's twisted look.
Between rows 2 and 3 are some assorted French Knots used as a filling stitch around the Long and Short Blanket Stitch.