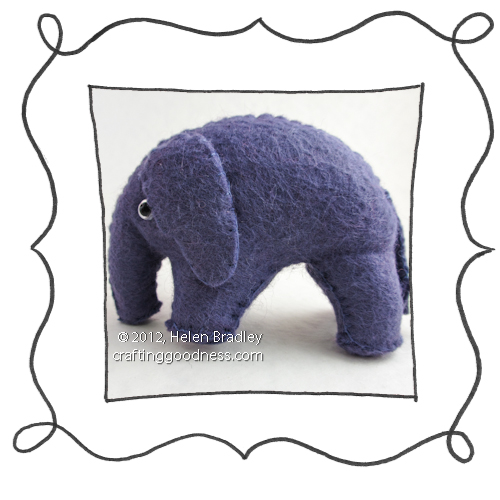 This cute elephant is the first real 3D pattern I have made for an animal. I based it on a circle so its body is made from a circle with the base cut off and then I cut out the areas for under the trunk and between the legs. It is best at this point to trim just a little from the length of the trunk too so it doesn't sit on its trunk later on. Cut pieces for the ears,  tail, belly and then five tiny small ovals  for the base of the feet and trunk. It is pretty easy to make the pattern yourself but I've  scanned mine so you can download and use it yourself.
I recommend you use wool felt not the stuff that is made from non natural fibres. The reason is that wool felt stands up to more of a beating and stitches close to the edges are less likely to pull out.  I used fibrefill and some eyes that I got for making amigurumi animals.
Start by sewing the legs and the underbody together, add the ovals for the bottom of the feet. Stuff as you go. Then sew up  the trunk and add an oval of felt to the bottom of the trunk and then sew all around the piece.
Add the tail which is rolled felt  with a fringe at the bottom. When you're done stitch the ear pieces together and then stitch them to the sides of the elephant body.  The eyes go  into small holes made in the head – attach with a dot of fabric glue.
Link: Download free felt elephant pattern here.
Related posts: