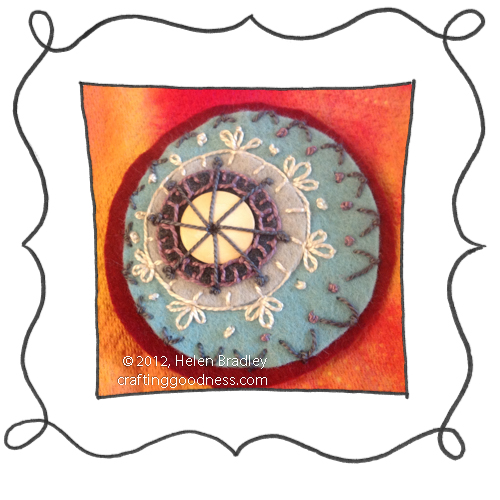 I love the color combination of crimson and blue here – it is tempered by some gray also one of my favorite colors. This piece features some lazy daisy stitches which I love they just give your work a little bit of a frivolous touch. There are also lots of French Knots which I now find it dead easy to do – just make sure you ease the stitch in place by holding the thread steady with your thumb – if you twist the thread around the needle and just pull the needle without supporting the stitch, you are  doomed to fail! Believe me!
Row 1 – Double Blanket Stitch – You work this as one row of blanket stitch all around and then do a second one up side down so the long bars of each overlap – it ended up being quite a cute stitch.
The bead is attached with some long stitches right into the second circle and each finished with a french knot.
Row 2 – More blanket stitch here but very large stitches so they are quite far apart. On the outer edge these are enhanced with alternating Lazy Daisy stitches and some french knots – at long last I am really able to do french knots with confidence – it takes practice but it finally worked out well.
Row 3 – This is a row of detached Fly Stitch so each is spaced around the edge of the piece. Between the individual fly stitches are more French Knots.
Related posts: