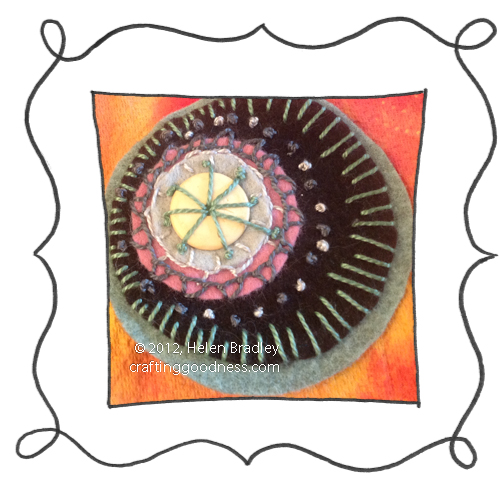 This is one of my favourite color combinations and stitches. The black and green grey are saved from being too dark and sombre by the pink and grey circles.
Row 1: This is a form of Open Cretan Stitch where, instead of the stitches being offset they are in the same line – you might almost call this an alternating blanket stitch were the stitch alternates from being on the inside to the outside.
The bead is held on with long stitches ended with french knots.
Row 2 – Closed Blanket Stitch – this stitch makes a nice triangle shape stitch and if you make them further apart than they should be then you get the sense of triangles separated from each other – sort of like bunting.
Row 3: Straight stitches alternating in length go around the edge of the shape. Because of the color contrast here you need to get this quite even or it doesn't look so good.
Between rows 2 & 3 are some French Knots alternating between light and dark gray color.
Related posts: