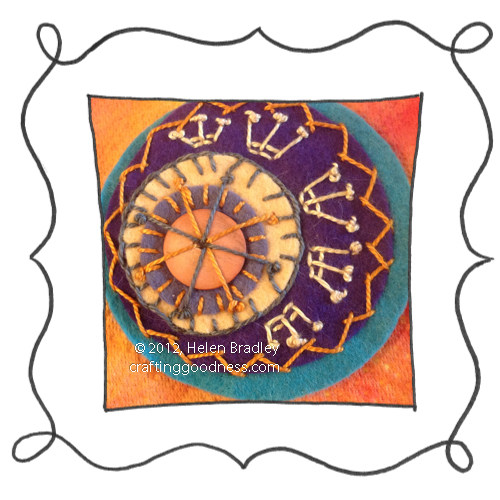 For this set of circles I thought it time to develop my own stitch – this one is inspired by sheet music and teams french knots with straight stitches. The felt color scheme is a bit brash – purple, turquoise and grey and the thread is tan and grey – after doing this one I went out and bought some more threads so I would have some more color alternatives!
Row 1: Straight stitch done over the edge – another simple stitch but when you work it in contrasting colors you really have to get it right.
The bead is stitched with alternating long stitches of tan and grey each finished with a French Knot
Row 2: Blanket stitch worked with the edge over the edge of the piece.
Row 3: Herringbone Stitch – this works well around a circle and here I worked one edge along the fabric edge and one well inside it.
Between rows 2 & 3 are my music stitch – a series of straight stitches and french knots.
Related posts: