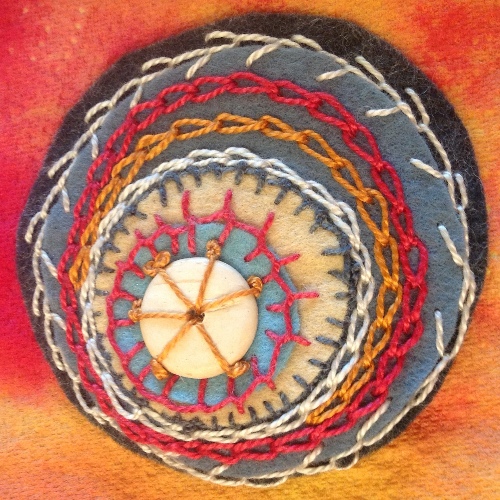 This color scheme is one I love, a mix of pale blue, sand, blue grey and grey. I think I love grey because our school uniforms were grey when we were growing up and I learned to love its possibilities – it's a soft and warm color for me and this wool felt is beautiful to sew – the dark grey color felt is very textured with light fibres in it – like the wool hasn't taken the dye so it has more interest than just plain felt.
Here I sewed a wheel of stitches to fix the bead – each was finished with a french knot.
Row 1: This is (I think) blanket stitch done not on the edge but stretching over the edge and arranged so the 'bar' is n the middle. Well, I think it is this but I'll have to try it again to see if I can duplicate it. If it is not that, then it is probably Open Cretan Stitch – need to sort this one…
Row 2: Blanket stitch – an old standby stitch which never loses its attraction – though I did read a post recently which suggests you use it on bigger pieces and not on small ones because it doesn't do sharp corners very well – a plain straight stitch is actually better around corners – I think I agree, but here it works just fine.
From here I added some chain stitching as a filler. I think it's nice and in future I will probably do one with more chain stitching still in varied colors and perhaps even lace it.
Row 3: This is feather stitch, arranged so most of the stitch is on the outside with only one of the stitches catching the inside piece. I haven't used Feather stitch much as it isn't technically a stitch you would use to join two pieces of fabric butI think it makes a nice edge stitch here.
Related posts: