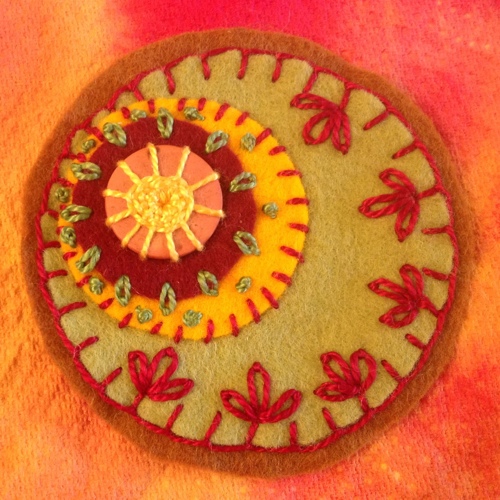 When I was growing up we learned that "red and green should never be seen"- it just wasn't done to combine the colors – in fact they go together quite well as you can see here. Usually I will combine similar values of red and green – with Christmas like results – here the combination is deep red with a pale green and added yellow and tan to the mix. It's a fun and interesting color scheme.
The bead is sewn on using a woven circle – to do this you must have an odd number of 'spokes' to the wheel or it fails!
Row 1 – individual lazy daisy stitches interspersed with french knots – I am really liking doing french knots – the more you practice with them the easier they get.
Row 2 – running stitch on an angle or straight stitch? what to call this – it's simple and fun and a change to do something easy.
Row 3 – blanket stitch all around with some of the bars in the stitch enhanced with lazy daisy stitches to make faux flowers – it's a great way to 'fill' a large area with some decorative element.
Related posts: