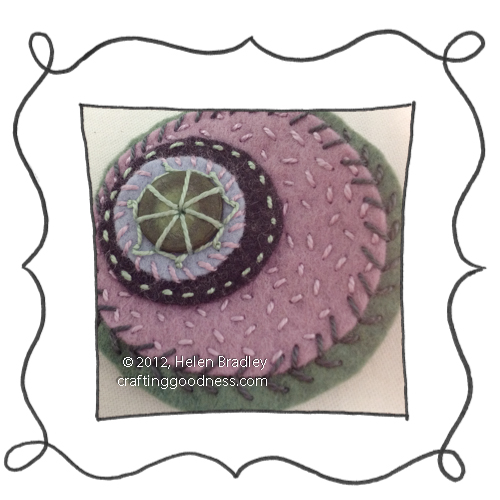 The colors in this piece were selected for me. They are winter warm colors and the mix of dusky pink, blue and green and the dark crimson felt with one of the last of the green beads all work really well together.  Green beads are in short supply – I will miss them when they are gone. I love this piece and the seed stitch looks awesome on it.
Row 1: straight stitch on an angle – does that make it angle stitch, I wonder?
The bead is stitched on with long stitches and these are finished with a twisted loop stitch.
Row 2: Running stitch – it is simple but there is a lot to love about this stitch and it's not easy to do evenly.
Row 3: this is a sort of modified fern stitch with only two stitches instead of three. I put one stitch over the edge between the two circles and the other one on the outside.
In between rows 2 and 3 is a seed stitch – since I worked out how to do this stitch I really love doing it.
Related posts: