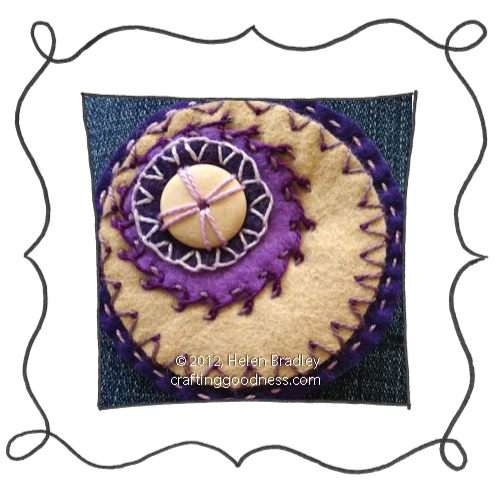 There is a school in Melbourne – Wesley – which has as its school colors a sort of gold and purple so this is my tribute to those colors. Here I have three shades of purple wool felt and one of gold/sand color – the purples are the smaller areas of color and the gold is the largest – this circle worked out amazingly and along the way you will see I have experimented with some two color stitches.
The bead is sewed on with long stitches in pairs to make a different pattern to usual.
Row 1 – this is a Closed Blanket Stitch worked around the edge of the smallest dark crimson/purple piece. It ends up looking like a triangle stitch but it is from the blanket stitch family.
Row 2 This is part Herringbone Ladder Filling Stitch – the outside edge and the inside edge is a whipped or laced running stitch. Done in two colors the effect is a bit of a steampunk like edging stitch.
Row 3 – ZigZag Couching Stitch – done in two colors you have one thread you just lay in place and another one you use to tie it down. It is cute stitch and pretty easy to do.
Row 4 – On the outside edge is a row of running stitch.
Related posts: