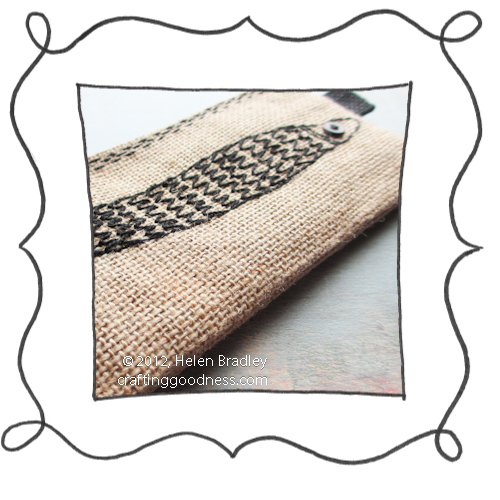 I love the $1 boxes inside the door at Target. There is seldom that a trip to Target doesn't result in some crafting item jumping into my basket there. One day it might be ribbon, sometimes a felt basket and one day recently it was burlap pencil cases. I bought 7 of them – they were just too good to go past – the colors were awesome – burlap and black, or burlap and cream and I just knew I would find inspiration in them.
Turns out inspiration was just around the corner. I have been embroidering a lot lately so it seemed that embroidering the pencil cases was a gimme since burlap is a great surface to use. I started out by embroidering stitches around the zipper – if anything wasn't going to hold out for the long term I thought it would be the zipper so I ran a row of stitches around and then got to work on the rest. On this case I embroidered fish. One fish on the front and then three top to tail on the back. I used black buttons for the eyes – the ones you get at Joanns for the small fish and just a standard black button for the large one.
The large fish is embroidered using backstitch to make the outline and then a 'U' shape stitch to fill it. For this, come out of the fabric and then go in about 1/4 in away and then out between these two stitches a bit below at the same time catching the thread with a tiny stitch. It is really a fly stitch and if you don't pull it all too tight you get more of a 'U' shape rather than a 'V'. Continue across the row making stitches side by side and then continue to fill the fish with it.
On the back here, the fish are again backstitched. One is filled with cross stitch, one with Fly stitch and the other with a sort of woven stitch. Black button eyes finish off the fish.
I am working on one in brown now … will have that to show soon.
In the meantime I've found some others on the web who have done things with these burlap pencil cases. Check them out:
Here Leah, owner of BlueBird Chic LLC,  at her blog has painted the pencil case with a paint dabber and added some tags to the finished product.
Here, Kim, from Plumberry Pie has used Sharpie markers to personalise her pencil cases.
Here they are stenciled with a mustache, and here is another stenciled version and again here, Sarah at Sweet life creative used them as invitations having stenciled a letter using craft paint on them.
So, have you found anything super cool at Target lately and what did you make from it?
Related posts: