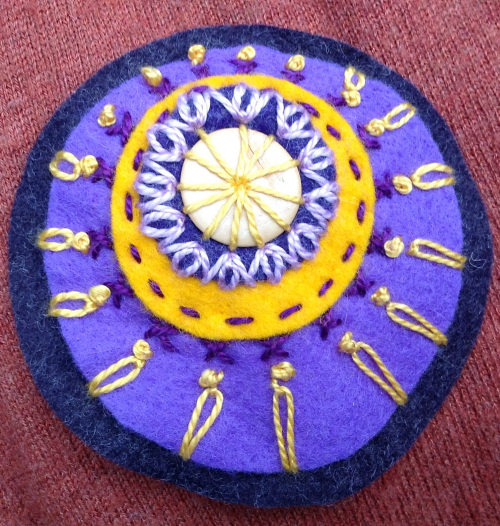 Recently I came across a picture on Pinterest of some felt circles sewn with buttons. I liked the idea but the stitching was very plain and so I developed my own version.
You will need four colors of felt, a button or large flat bead with a single hole if possible. Mine came from my recycled jewelry stash. I had bought a wooden necklace around ten years ago but had never really found a good use for the wooden beads until now and now they are being used a lot. I am using DMC thread – the twisted one which comes in lots of colors. I bought a heap of various colors of them. They are pricey and a bit of a nuisance to work with because I have to unwind them and wind them onto paper spools before I can use them as they come in twisted skeins but apart from that, they are wonderful to sew with and their slightly lustrous appearance makes them look richly embroidered where 6 strand thread would not. I buy solid colors but the size 3 thread I use comes in variegated colors too.
Cut your felt into 4 circles. I drew patterns using various containers for the sizes – the smallest is bigger than the button and the largest is around 4-4.5 inches across. They aren't consistently sized so the difference in size from circle 2 to circle 3 is bigger than the others but this was a choice. I use four different color circles and usually 3-4 colors of thread. I use the pieces as a way to play with color and to practice stitches – the size is small enough that if you mess it up you aren't wasting a lot of materials.
Start by stitching the smallest two circles together using a stitch of your choosing. Blanket or running stitches are good but anything goes. Then attach the button using long stitches through it and the two circles. Then stitch it all to the third circle and then to the fourth. I put my circles a little offset so it isn't all centered but you can do it as you like.
Over the next few posts I will show you some of the circles and the stitches I used.
For today's circle I was playing with color and for the first row, lazy daisy single stitches with straight stitches to make a V shape between.
Second row, running stitch. Third rows, cross stitch then a row of French knots and finally single lazy daisy stitches. Where there isn't room, just leave off part of the stitch or make it smaller.
Related posts: