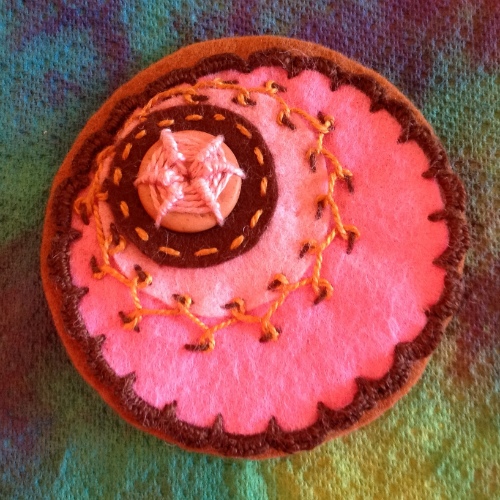 This color scheme was one I chose after a long holiday – I think I was feeling relaxed when I chose it. It certainly prompted me to expermiment with some new stitches. I love brown and pink as a combination and the pink, dark gold and brown threads work well with the combination.
The bead is stitched using a whipped circle – if I had done a woven circle I'd have needed an uneven number of 'spokes' but the whipped version not only looks great but you can do it with an even or uneven number of stitches which is great.
Row 1 is a row of plain running stitch.
Row 2 is two rows of running stitch – in this case I did the first set and then stitched the second set so they lined up in between the spaces made by the first – this is critical as you need the same number of stitches in each row. Then I did a herringbone ladder stitch over the running stitch. Usually you'll do it over back stitch so there are more loops and so they are closer to each other – this way it takes on a more open and decorative look – particularly when stitched with two colors.
Row 3 – this one took an age to sew – it is buttonhole loops. It is easy to sew but there are a lot of stitches there! I really love the finish – it looks lacy and curved but as I sewed it I though each loop looked messy as it was being sewed but somehow when they blended into a series they look even and very professional.
Related posts: